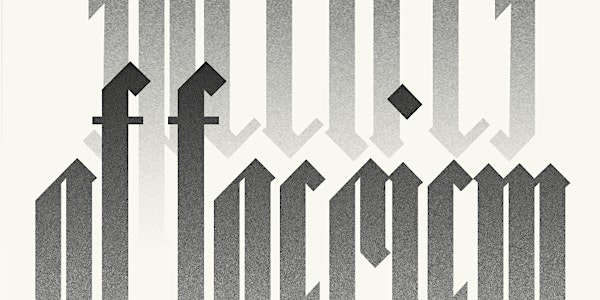 Book Launch and Panel on Contemporary Perspective of "Spectres of Fascism"
Book Launch and Panel Discussions: "Spectres of Fascism: Historical, Theoretical and International Perspectives"
About this event
SPECTRE OF FASCISM FREE SCHOOL
This publication started as the Spectre of Fascism Free School, organized by Samir Gandesha and Stephen Collis and co-sponsored by the Institute for the Humanities and rabble.ca, at UNIT/PITT Projects (236 E. Pender St.) over a 9-month period in 2017.
The Free School aimed to open a discussion on the question of the extent to which what we are witnessing today is a return to classic 20th century "fascism" or some species of what Enzo Traverso, author of amongst other books, The Origins of Nazi Violence, calls "post-fascism." The first session looked at theories and histories of 20th century fascism and authoritarianism, and the second session looked to more contemporary 21st century examples. Both sessions explored the practical responses to the global spread of authoritarianism.
BOOK DESCRIPTION
From the United States and Britain to Egypt, India, Turkey and Brazil, fascist ideology, aesthetics and personalities are on the rise. Spectres of Fascism offers a framework to help us understand whether what we are witnessing today is best understood as a return to classic twentieth-century "fascism," or some species of what has been called "post-fascism." Applying a uniquely global perspective, it combines analyses of historical contexts, theoretical approaches and contemporary geopolitics.
SCHEDULE
May 22, 10am–12pm | Historical Perspective Panel
Ingo Schmidt teaches Labour Studies at Athabasca University. Recent books include Reading 'Capital' Today: Marx After 150 Years (with Carlo Fanelli) and The Three Worlds of Social Democracy: A Global View.
Jaleh Mansoor is an associate professor of Art History at UBC, Mansoor's areas of teaching and research include modernism and the avant-gardes, European art since 1945, Marxism and Frankfurt School Theory, formalism, Marxist feminism, and social reproduction theory.
Tamir Bar-On is a researcher and professor in the School of Social Sciences and Government, Tec de Monterrey, and is a specialist on French and European New Right, fascism, the Right in various countries, the history of political ideologies, the Alt Right, Islamism, terrorism, and football (soccer) and the Right.
May 29, 10am–12pm | Theoretical Perspective Panel
Am Johal is Director of SFU's Vancity Office of Community Engagement and the author of Ecological Metapolitics: Badiou and the Anthropocene and co-author with Matt Hern of Global Warming and the Sweetness of Life: A Tar Sands Tale.
Laura Marks works on media art and philosophy with an intercultural focus. Her most recent books are Hanan al-Cinema: Affections for the Moving Image (MIT, 2015) and Enfoldment and Infinity: An Islamic Genealogy of New Media Art (MIT, 2010).
Hilda Fernandez Alvarez works as a Lacanian psychoanalyst in private practice and as a psychotherapist, registered with the BC Association of Clinical Counsellors, for a public institution (Vancouver Coastal Health) in Vancouver, Canada.
June 5, 10am–12pm | Contemporary Perspective Panel
Ajay Gudavarthy is Associate Professor at the Centre for Political Studies, Jawaharlal Nehru University, New Delhi. He has been a visiting fellow at Goldsmiths, University of London, and a Charles Wallace Fellow at the School of Oriental and African Studies, University of London.
Helmut-Harry Loewen has devoted over three decades to anti-fascist activism. Prior to his retirement in 2015, Loewen taught for twenty-two years at the University of Winnipeg, first as a sessional lecturer in German Studies and Philosophy and then as a member of the Department of Sociology.
Joan Braune is Lecturer in Philosophy at Gonzaga University, USA. She is author of Erich Fromm's Revolutionary Hope: Prophetic Messianism as a Critical Theory of the Future (2014).
Patricia Barkaskas is the Academic Director of the Indigenous Community Legal Clinic and an Instructor at the Peter A. Allard School of Law. Patricia has practiced in the areas of child protection (as parent's counsel), civil, criminal, family, and prison law.
Vladimir Safatle is a professor of Philosophy and Psychology at University of São Paulo, has been a visiting scholar at UC - Berkeley, and an invited professor at Université de Paris VII, Paris VIII, Toulouse, and Louvain.
MODERATOR
Samir Gandesha is currently Associate Professor in the Department of the Humanities and the Director of the Institute for the Humanities at Simon Fraser University. He specializes in modern European thought and culture, with a particular emphasis on the 19th and 20th centuries.