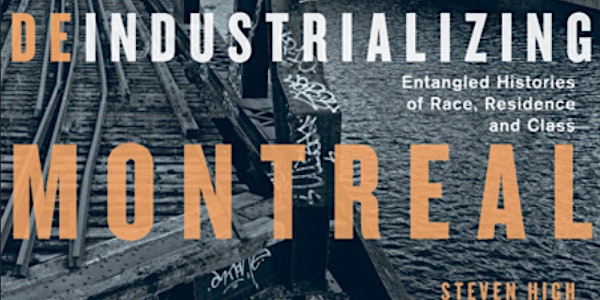 Book Launch: Deindustrializing Montreal by Steven High
Join us for the launch of Steven High's new book, Deindustrializing Montreal: Entangled Histories of Race, Residence, and Class.
When and where
Location
Les Sans-Taverne - Coop et Brasserie Artisanale 1900 Rue le Ber Montréal, QC H3K 2A4 Canada
About this event
Steven High's new book Deindustrializing Montreal explores the history of Little Burgundy and Pointe Saint-Charles through the oral histories of long-term residents. It includes over 200 historic photographs and other illustrations as well as the art-work of Emanuelle Dufour, Amina Jalabi, and Josh Toal. We learn what it was like to grow up in the two neighbourhoods before the factories closed and how people experienced the effects of urban renewal, factory closures, and gentrification.
Join us for this free event Sunday August 28th (1-3pm) at Batiment 7's Les Sans Taverne (1900 rue Le Ber) in Pointe-Saint-Charles. It is wheelchair-accessible and has a large patio for maximum COVID-19 safety.
David Austin, one of Canada's foremost scholars of the Black Radical Tradition, will also say a few words. 
We hope you can make it!
Click here to order the book at McGill-Queen's University Press.
Le nouveau livre de Steven High Deindustrializing Montreal explore l'histoire de la Petite-Bourgogne et Pointe Saint-Charles à travers les récits oraux de résidents de longue date. L'oeuvre inclut plus de 200 photos historiques et autres illustrations ainsi que les oeuvres artistiques d'Emmanuelle Dufour, Amina Jalabi, et Josh Toal. On découvre à travers le livre ce que c'était de vivre dans ces deux arrondissements avant que les usines ferment et comment les résidents ont vécu les effets du renouveau urbain, de la fermeture industrielle, et de la gentrification.
Joignez vous à nous pour cet événement gratuit le dimanche 28 aout (de 13h à 15h) aux Les Sans Taverne, dans le Batiment 7 (1900 rue Le Ber) à Pointe-Saint-Charles. L'endroit est accessible en chaise roulante et a une grande terrasse pour maximiser la sécurité vis-à-vis la COVID-19.
David Austin, un des plus grands chercheurs canadiens de la Tradition Noire Radicale partagera aussi quelques mots.
Nous espérons vous y voir!
Cliquez ici pour commander le livre à la McGill-Queen's University Press.