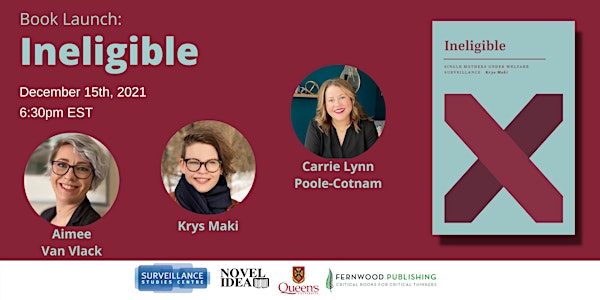 Book Launch - Ineligible: Single Mothers Under Welfare Surveillance
Join Krys Maki in conversation with Carrie Lynn Poole-Cotnam and Aimee Van Vlack
About this event
Fernwood Publishing in collaboration with Novel Idea, The Department of Sociology Queen's University, and the Surveillance Studies Centre presents the launch of Ineligible: Single Mothers Under Welfare Surveillance. This event will feature a discussion with anti-poverty activists Aimee VanVlack and Carrie Lynn Poole-Cotnam and author Krys Maki. The speakers will draw on their own lived experiences of poverty, activism, and frontline casework and reflect on the impacts of welfare surveillance on the lives of low income mothers and their everyday and collective acts of resistance.
** Register through Eventbrite to receive virtual event link***
About the speakers
Aimee Van Vlack is an activist whose focus has been primarily on anti-poverty, violence against women and children, anti-racism, and safe consumption. Her work was accomplished by organizing civil disobedience events and working to directly change harmful policies with policymakers. Aimee served on the Board of Directors for Kingston Interval House, was the Chair for the Kingston Coalition Against Poverty, was the President for the Kingston and the Islands NDP riding association, and is a recipient of the Daniel Benedict Award from the Ontario Health Coalition.
Carrie Lynn Poole-Cotnam is the Chair of the CUPE Ontario Social Services Sector representing 35,000 social service workers in the province. For 13 years Carrie Lynn worked as a frontline case worker with those in receipt of social assistance in the South end of Ottawa. She has been a passionate voice for women's economic justice by representing CUPE Ontario on the Ontario Equal Pay Coalition , serves as the Treasurer of the Ontario Coalition for Better Child Care, and has been involved in anti-poverty work for the last 10 years.
About the author
Krys Maki is an activist scholar specializing in mixed-methods community-based research in the areas of gender based violence, poverty, and surveillance. For their research on welfare surveillance, Krys received the Canadian Sociological Association's Outstanding PhD Graduating Student Recognition Award and the SSHRC Vanier Canadian Graduate Scholarship. They currently work as the research and policy manager at Women's Shelters Canada, a national network of violence against women shelters based in Ottawa.
About this book
While the poor have always been monitored and surveilled by the state when seeking financial support, the methods, techniques, and capacity for surveillance within and across government jurisdictions has profoundly altered how recipients navigate social assistance. Welfare surveillance has exacerbated social inequality, especially among low income, Indigenous, and racialized single mothers. Krys Maki unpacks in-depth interviews with Ontario Works caseworkers, anti-poverty activists, and single mothers on assistance in Kingston, Peterborough, and Toronto, and employs intersectional feminist political economy and critical surveillance theory to contextualize the ways neoliberal welfare reforms have subjected low-income single mothers to intensive state surveillance. Maki centres their experiences to examine how their status as lone parents prompted fraud investigations and invasive questioning about their relationship status, and triggered investigations by other governing bodies such as child welfare agencies. This book also examines the moral and political implications of administering inadequate benefits alongside punitive surveillance measures. Despite significant restraints, anti-poverty activists, caseworkers, and recipients have discovered individual and collective ways to resist the neoliberal agenda.
Purchase a copy at Novel Idea Bookstore
Reviews
"Anyone who says they care one tiny morsel about the poor needs to read this book. Finally, we have a book that explores how modern technologies have added a whole new level of sophisticated surveillance and stigma to single moms on welfare. Told from the perspective of both single moms on welfare and the caseworkers who are mandated to implement these punishing regulations, Maki offers a compelling and important contribution to critical poverty studies." – Margaret Little, Political Studies, Gender Studies, Queen's University
"Maki exposes with precision the web of surveillance that watches, sorts, and regulates recipients of social assistance. While surveillance of the poor is not a new form of social control, Maki shows how new technologies have intensified the gaze of both state and non-state actors. This highly readable and compelling book deftly examines an area of social policy too often overlooked." – Janet E. Mosher, Osgood Law School, York University
Co-Sponsored by:
The Department of Sociology, Queens University