Celebrate the launch of Jude and Diana with Craig Marshall Smith, Brenda Francis and author, Sharon Robart-Johnson.
About this event
Fernwood Publishing in collaboration with Yarmouth County Museum and Archives presents the launch of Jude and Diana. This event will feature a discussion with Sergeant Craig Marshall Smith, M.O.M., Brenda Francis and author of Jude and Diana, Sharon Robart-Johnson.
***Register through Eventbrite to receive a link to the livestream link on the day of the event.***
Purchase a copy of Jude and Diana
About the speakers
Brenda Francis
Brenda A. Francis was raised in the rural Black community of Conway in Digby County, Nova Scotia to parents of small business owners/ entrepreneurs with an interest in community / social justice and equity issues. From a young age Brenda emulated her primary role models and exhibiting their sense of fairness and equality.
For over 20 years, Brenda has been employed with the Black Educators Association as Regional Educator in the Southwest Region of Nova Scotia. Brenda is experienced in problem solving, negotiation and mediation. Brenda takes pride in providing the best possible advice and support to learners, parents and community on education, social justice issues and the importance of Community Economic Development in the Black community (especially in the area of Human Resource Development and the creation of small businesses). As Regional Educator, Brenda's goals include striving to create an equitable education system ensuring Black learners have an opportunity to achieve education excellence.
In addition to her primary job functions Brenda, has been recognized for her service to the Volunteer Sector in Nova Scotia. For over 40 years Brenda has served on numerous Boards, Commissions and Organizations locally, regionally and provincially. Currently, she is the Interim President of the Black Cultural Society, on the Board of Directors of the Jordantown Acaciaville Conway Betterment Association, the Western Region Enterprise Network and the Digby Settlement Committee. She holds an Advanced Diploma in Non-Profit Leadership from Kingstech Campus NSCC and resides in Conway, Digby County.
Sergeant Craig Marshall Smith, M.O.M.
Craig Smith is a Halifax based author, RCMP sergeant and former president / board chair of the Black Cultural Society for Nova Scotia. He is the 2 nd eldest child of the Muriel (Borden) Smith and the late Bobby Smith.
Craig has written extensively on African-Canadian history and achievement. He has lectured and conducted presentations on Black Canadian history, race relations and policing from a Black perspective across Canada and in the United States.
Craig has written and published 5 books that explore the African Nova Scotian experience and provides a glimpse into our journey and unique place in Canada. His books lay the foundation for the examination of how race and racism has intersected with the daily life of African-Nova Scotians and African Canadians, since we first arrived in this country.
Craig has received a number of awards and in recognition of his work in the area of diversity, inclusion and race-relations and history including: the Harry Jerome Award 2012; the Queen Elizabeth II Diamond Jubilee Medal 2012, the Dr. Burnley A. Jones Nova Scotia Human Rights Award in 2014. In 2015, Craig was appointed to the Police Order of Merit of Police Forces by His Excellency, The Honourable David Johnston, Governor-General of Canada. Craig was the first African-Nova Scotian police officer and first African-Canadian RCMP member to receive his honour.
Craig is married to Rosella Fraser and together they have 4 beautiful daughters.
Sharon Robart-Johnson
Sharon Robart-Johnson was born in the South End of Yarmouth; she is a thirteenth-generation Nova Scotian. Her roots reach back to the Expulsion of the Acadians in 1755, to the arrival of the Black Loyalists in Shelburne in 1783, and to an enslaved person brought to Digby County in 1798. In 2009 she published her first book, Africa's Children: A History of Blacks in Yarmouth. Her years of archival experience and passion for researching Black history have most recently culminated in historical fiction, a way to honour those omitted from colonial archives.
David Sollows
David Sollows is a native of Yarmouth with deep roots in the area. He studied mathematics, biology and education at Acadia University and returned to work as an educator and school principal in Yarmouth. He continues to work as a mentor for beginning teachers in B.Ed programs from various universities. He has always had an interest in local history and has served as president and board member of the Yarmouth County Historical Society, Chair of the Southwest Nova Biosphere Reserve Association, Secretary to the Beacon Church Council and the Trustees of the Congregational Church of Chebogue Preservation Society, member of the Town of Yarmouth Communities in Bloom Committee, and a charter member of the Yarmouth Shantymen. He has worked as a tour guide and interpreter for large and small tour groups. He has a passion for gardening, storytelling and encouraging people to get in touch with the stories that have led them to become who they are and where they are. David and his wife, Judy reside in Yarmouth and have two adult sons and three young grandchildren.
About the book
The only mention of Jude in Nova Scotia's official history relates to her death: a slave-owning family was brought to trial for her murder in 1801. They were acquitted despite overwhelming evidence that they were guilty. Sharon Robart-Johnson pays tribute to such archival glimpses of enslaved people by re-creating the fullness of sisters Jude and Diana's survival, emphasizing their joys alongside their hardship. She stories their movements through the U.S. to Nova Scotia, Canada, with the arrival of the United Empire Loyalists in 1783. As a child, Jude is sold away and then, by a lucky turn of fate, reunited with her fiercely loving family. Jude's experiences harden her into a rebel who resists injustice without heeding consequences, and after her death, Diana is left alone to deal with racist and sexual violence.
Through Robart-Johnson's research, we experience nineteenth-century Nova Scotia, when political debates about abolishing slavery were just beginning to emerge. Through Robart-Johnson's creativity, we enter the historical fiction of Jude and Diana and their strong familial bonds, each character developed with nuance and care. While chronicling the cruelty they endured, Robart-Johnson's storytelling powerfully honours their humour, strength, and shining dignity.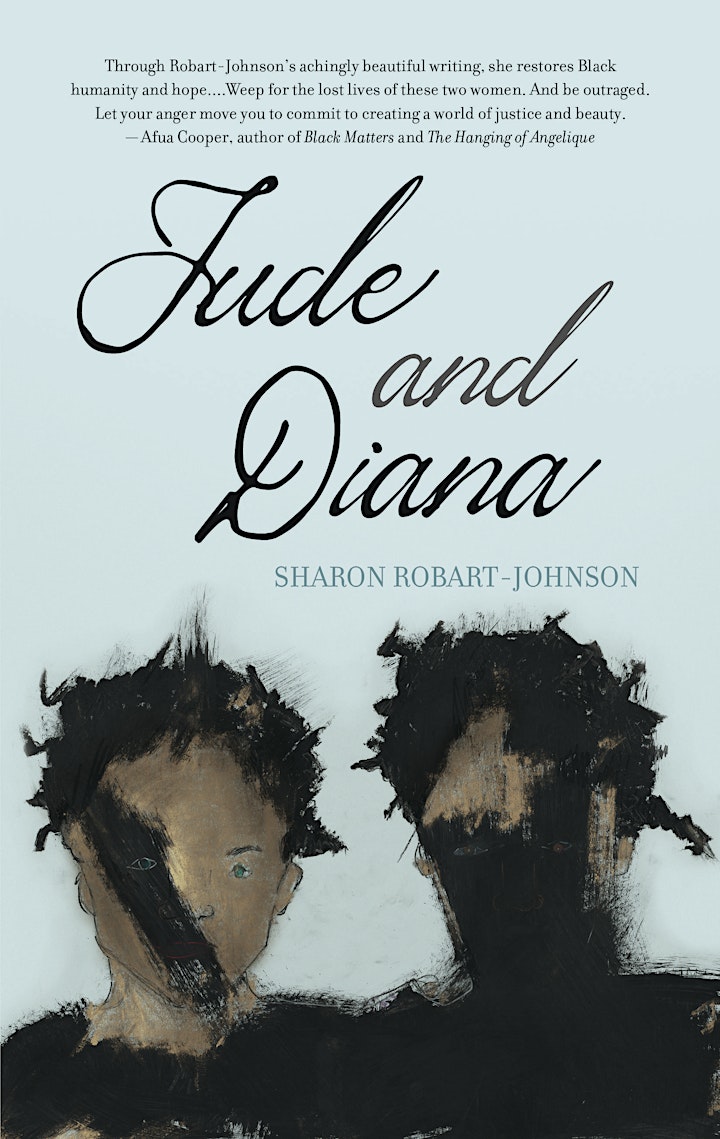 Organizer of Book Launch: Jude and Diana