Celebrate the launch of 'Living in Indigenous Sovereignty' with its authors and community leaders.
About this event
Fernwood Publishing presents the launch of Living in Indigenous Sovereignty. Join author Elizabeth Carlson-Manathara in conversation with Aimée Craft, Chickadee Richard and Victoria Freeman. Hosted by Michelle Kennedy. This event will feature giveaways with exciting prizes. This event is part of Radical May, an international festival of books and authors.
Purchase a copy of Living in Indigenous Sovereignty.
***Register through Eventbrite to receive a Zoom link on the day of the event.***
We have free Tea Bundle Kits for the first 20 Sudbury, Ontario residents who register! Too late to register for a Tea Bundle Kit or don't live in Sudbury, Ontario? Grab one of your favourite teas/coffee & mug from home and join us. We will also have exciting giveaways during the event. See you there!
About the Speakers
Benais Quimiwin Ikwe — Thunder Rain Woman, or Chickadee Richard, is a member of the Sandy Bay First Nation, raised alongside the west side of Lake Manitoba. She is a mother of three biological children and two adopted sons, a Grandmother of seven children, and an aunt or grandmother to many in the Indigenous communities across Turtle Island. She has worked alongside many great grassroots leaders of the Indigenous communities in making safe places for our peoples. She is a proud Anishinaabekwe who has dedicated her life for the betterment of the life of our land, our water, and our Indigenous communities. She has been a believer and educator for change and for justice for many years, regionally and nationally, by creating awareness and sharing the strength and beauty of our Indigenous culture. She has worked with peoples who are open and willing to change the current ways that still harm our land, waters, and our people's ways of life.
Elizabeth Carlson-Manathara's Swedish, Sámi, German, Scots-Irish, and English ancestors settled on lands of the Anishinaabe and Omaha Nations, which were unethically obtained by the U.S. government. Her scholarship is focused on the anti-colonial and decolonial work of settlers, anti-colonial social work practice and research methodologies, and anti-colonial public education through film. Liz is currently learning to live in Indigenous sovereignty as a Treaty relative of the Robinson-Huron Treaty of 1850 while working as an assistant professor in the School of Social Work at Laurentian University.
Aimée Craft is an award-winning teacher and researcher, recognized internationally as a leader in the area of Indigenous laws, treaties and water. She prioritizes Indigenous-lead and interdisciplinary research, including through visual arts and film, co-leads a series of major research grants on Decolonizing Water Governance and works with many Indigenous nations and communities on Indigenous relationships with and responsibilities to nibi (water). She plays an active role in international collaborations relating to transformative memory in colonial contexts and relating to the reclamation of Indigenous birthing practices as expressions of territorial sovereignty. Prof. Craft is an Associate Professor at the Faculty of Common law, University of Ottawa and an Indigenous (Anishinaabe-Métis) lawyer from Treaty 1 territory in Manitoba. She is the former Director of Research at the National Inquiry into Missing and Murdered Indigenous Women and Girls and the founding Director of Research at the National Centre for Truth and Reconciliation. She practiced at the Public Interest Law Centre for over a decade and in 2016 she was voted one of the top 25 most influential lawyers in Canada. In 2021 she was awarded the prestigious Canadian Bar Association President's Award. Breathing Life Into the Stone Fort Treaty, her award-winning book, focuses on understanding and interpreting treaties from an Anishinaabe inaakonigewin (legal) perspective. She is past chair of the Aboriginal Law Section of the Canadian Bar Association and a current member of the Speaker's Bureau of the Treaty Relations Commission of Manitoba.
Victoria Freeman is a writer, historian, theatre artist, and activist. She is the author of Distant Relations: How My Ancestors Colonized North America and A World without Martha: A Memoir of Sisters, Disability, and Difference. She researched and co-wrote two plays, The Talking Treaties Spectacle (with Ange Loft of Jumblies Theatre) and Birds Make Me Think About Freedom (with L'Arche Toronto Sol Express). With Ange Loft, she also co-wrote the film By These Presents: 'Purchasing' Toronto and with Ange Loft and Martha Stiegman is co-creating the illustrated adult pop-up book A Treaty Guide for Torontonians (forthcoming at the 2022 Toronto Biennial of Art). She is currently conducting research for a project with York University, the Mississaugas of the Credit, Six Nations, Chippewas of Rama, Mississaugas of Scugog, and Black Creek Pioneer Village to change the narrative of that heritage site by bringing regional Indigenous history and the history of local Indigenous-non-Indigenous relations into its interpretation and exhibits.
Michelle Kennedy (she/her) is Haudenosaunee and a member of Oneida Nation of the Thames, raised in London, Ontario. She has lived in Anishinabek, Robinson Huron Treaty Territory, since 2011. Michelle is a student at Laurentian University in the Ph.D. Human Studies program, where her research focuses on Indigenous curriculum development and art repatriation.
About Radical May
Radical May brings together authors and publishers of all continents for an inspiring and multilingual programme of round tables, talks and debates with some of the world's leading radical thinkers.
With events running in many different time zones and languages, we speak to a truly global audience—people and organisations who wish to challenge our broken social and economic systems and organize for a better, more radical future.
About the book
In the last decade, the relationship between settler Canadians and Indigenous Peoples has been highlighted by the Truth and Reconciliation Commission, the National Inquiry into Missing and Murdered Indigenous Women and Girls, the Idle No More movement, the Wet'suwet'en struggle against pipeline development and other Indigenous-led struggles for Indigenous sovereignty and decolonization. Increasing numbers of Canadians are beginning to recognize how settler colonialism continues to shape relationships on these lands. With this recognition comes the question many settler Canadians are now asking, what can I do?
Living in Indigenous Sovereignty lifts up the wisdom of Indigenous scholars, activists and knowledge keepers who speak pointedly to what they are asking of non-Indigenous people. It also shares the experiences of thirteen white settler Canadians who are deeply engaged in solidarity work with Indigenous Peoples. Together, these stories offer inspiration and guidance for settler Canadians who wish to live honourably in relationship with Indigenous Peoples, laws and lands. If Canadians truly want to achieve this goal, Carlson and Rowe argue, they will pursue a reorientation of their lives toward "living in Indigenous sovereignty" — living in an awareness that these are Indigenous lands, containing relationships, laws, protocols, stories, obligations and opportunities that have been understood and practised by Indigenous peoples since time immemorial.
Collectively, these stories will help settler Canadians understand what transformations we must undertake if we are to fundamentally shift our current relations and find a new way forward, together.
Purchase a copy of Living in Indigenous Sovereignty.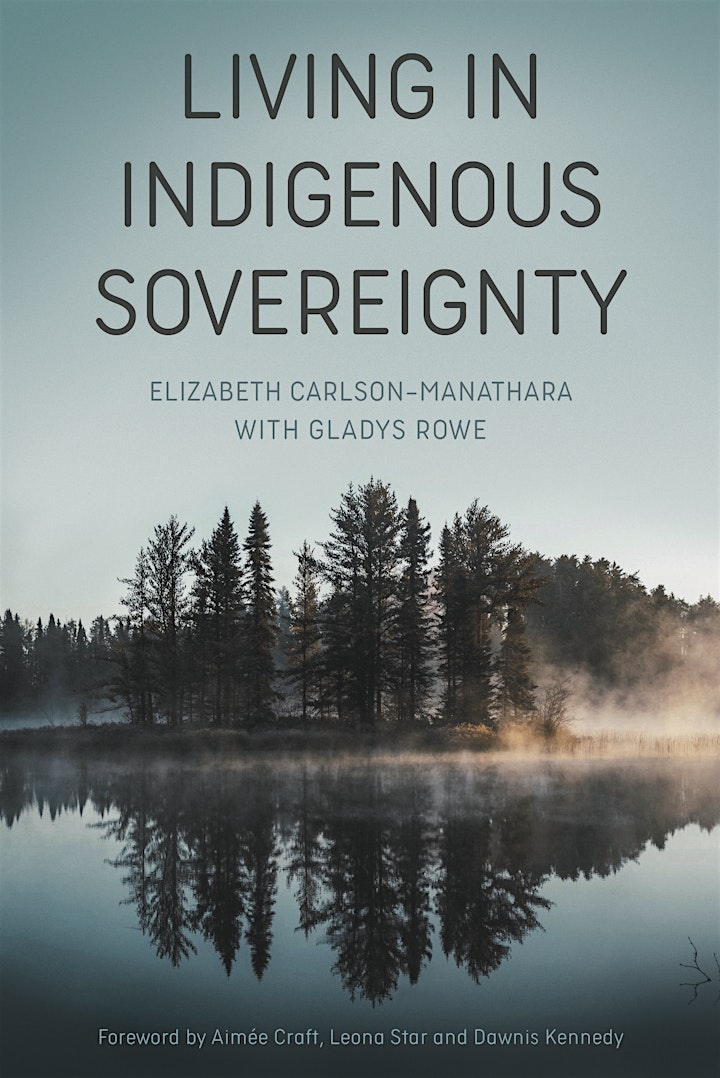 Organizer of Book Launch: Living in Indigenous Sovereignty