We invite you to the launch of Elie's FIRST book, the Marketing Genius of the Puppet Podcast! His book is called: "Living from your Art"!
About this event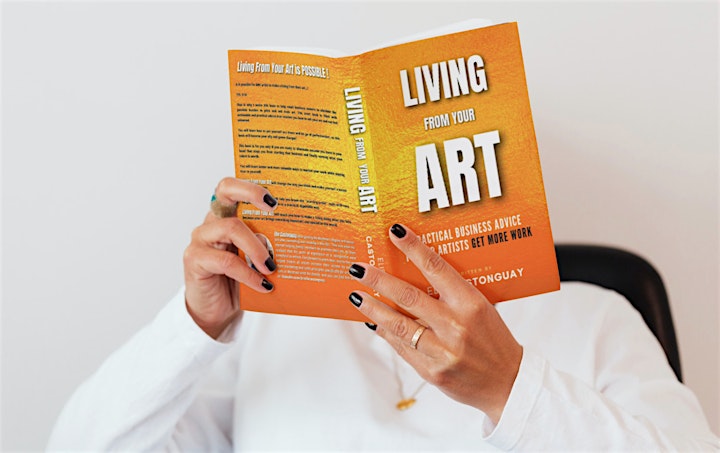 Book Launch Party: "Living from your Art" by Puppet Podcast
----------
*The day of the event, you will receive the ZOOM link to access the online event*
-------------
DATE: June 26th from 5 PM EST to 6 PM EST
After helping many artists throughout the pandemic and coaching them every week for the last couple of years, Elie, the Marketing Genius behind the Puppet Podcast, is launching his FIRST book: "Living from your Art - Practical Business Advice to Help Artists Book More Work".
The Puppet Podcast is glad to invite you to this SPECIAL EVENT to celebrate the launch of this book that, we hope, will help many artists on the planet for the years to come! This book was created to make sure that more and more artists could make a living from their art. It IS possible to become a very successful and prosperous artist by applying the right strategies and having the right mindset to succeed. This is exactly what this book is about.
Here is the description of the book:
------------------------------------------
"Is it possible for ANY artist to make a living from their art...?
YES, it is!
That is why I wrote this book to help small business owners to alleviate the possible hurdles to price and sell their art. This short book is filled with actionable and practical advice that teaches you how to sell your art and not feel ashamed.
You will learn how to put yourself out there and let go of perfectionism, so this book will become your ally and game changer!
This book is for you only if you are ready to eliminate excuses you have in your head that stops you from starting that business and finally earning what your talent is worth.
You will learn better and more valuable ways to market your work while staying true to yourself.
"LIVING FROM YOUR ART" will change the way you think and make you a better artist/entrepreneur.
"LIVING FROM YOUR ART" will help you break the "starving artist" myth with very tangible advice and direction in a practical, digestible way.
"LIVING FROM YOUR ART" will teach you how to make a living doing what you love because your art brings something important and special to the world."
------------------------------------------
We hope to have you with us for this very special event!
DATE: June 26th from 5 PM EST to 6 PM EST
Invite every ARTIST friends that you know!