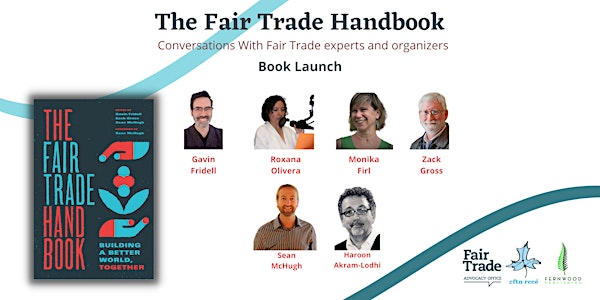 Book Launch: The Fair Trade Handbook
Join editors of 'The Fair Trade Handbook' along with other exciting speakers for an enlightening book launch.
About this event
Fernwood Publishing in partnership with the Canadian Fair Trade Network and the Fair Trade Advocacy Office, presents the book launch of The Fair Trade Handbook: Building a Better World, Together. Join editors, Gavin Fridell, Zack Gross and Sean McHugh in conversation with Haroon Akram-Lodhi, Roxana Olivera and Monika Firl.
***Register through Eventbrite to receive a link to the video conference on the day of the event.***
Purchase a copy of The Fair Trade Handbook here.
About the editors
Gavin Fridell
Gavin Fridell is a Professor and Canada Research Chair in International Development Studies at Saint Mary's University and a member of the Royal Society of Canada's College of New Scholars. He has written widely on fair trade and free trade, and his publications include Coffee (Polity Press: 2014) and Alternative Trade: Legacies for the Future (Fernwood: 2013). He is a member of the Advisory Board of the Canadian Fair Trade Network and is currently conducting research on global trade agreements and trade justice.
Zack Gross
Zack Gross has spent a long career in the international development NGO community in Canada, particularly engaging Canadians in becoming global citizens in solidarity with the marginalized. Fair trade grabbed him as a practical way to attain this goal, to change our daily behaviour and, hopefully, government and corporate policy. Zack facilitates courses in International Development through the University of British Columbia's Extended Learning Program, is a member of Fairtrade Canada's Board of Directors, and is Board Chair of the Marquis Project, a Manitoba-based NGO. He has been awarded the Queen's Golden Jubilee Medal and Fairtrade Canada's Lifetime Achievement Award.
Sean McHugh
Sean is the founder and Executive Director of the Canadian Fair Trade Network (CFTN). Sean's passion for global sustainability, grew out of international travel (2004-2009) and time spent working in Kenya. Sean moved back to Vancouver in 2009, and got involved with Fair Trade Vancouver, helping the city become Canada's 11th Fair Trade Designated Town. Sean later became the organizations Executive Director, where his work included working with the University of British Columbia and Simon Fraser University in their becoming Canada's 1st and 2nd Fair Trade Designated Campuses. In 2011, Sean founded the Canadian Fair Trade Network, as an effort to build a stronger, more organized social movement in Canada. Sean has overseen the expansion of numerous programs, has led the planning of eight national conferences, and developed and grown the organizations bi-annual publication, Fair Trade Magazine. Sean represents Canada on the International Fair Trade Towns Committee.
About the book
Framed within the common goal of advancing trade justice and South-North solidarity, The Fair Trade Handbook presents a broad interpretation of fair trade and a wide-ranging dialogue between different viewpoints. Canadian researchers in particular have advanced a transformative vision of fair trade, rooted in the cooperative movement and arguing for a more central role for Southern farmers and workers. Contributors to this book look at the issues within global trade, and assess fair trade and how to make it more effective against the broader structures of the capitalist, colonialist, racist and patriarchal global economy. The debates and discussions are set within a critical development studies and critical political economy framework. However, this book will appeal to a wide range of readers, as it translates the key issues for a popular audience.
Purchase a copy of The Fair Trade Handbook here.