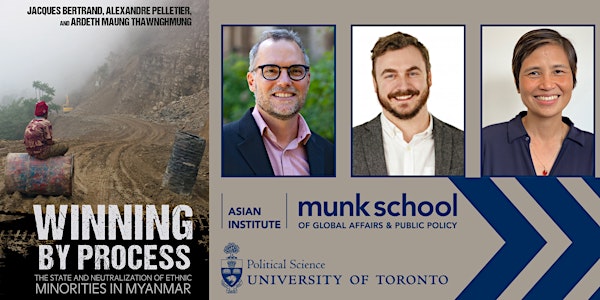 Book Launch: Winning by Process
Join us for the book launch of Winning by Process: The State and Neutralization of Ethnic Minorities in Myanmar.
When and where
Location
Boardroom (1st floor), Observatory Site, Munk School of Global Affairs & Public Policy, U of T 315 Bloor Street West Toronto, ON M5S 0A7 Canada
About this event
This event will be conducted in a hybrid format. This registration page is for in-person attendance only. Please note that in-person attendance is limited. To attend the talk virtually, please register via Zoom here.
Join us for the book launch of Winning by Process: The State and Neutralization of Ethnic Minorities in Myanmar (Cornell University Press, 2022) co-authored by Jacques Bertrand, Alexandre Pelletier, and Ardeth Maung Thawnghmung.
ABOUT THE BOOK:
Winning by Process asks why the peace process stalled in the decade from 2011 to 2021 despite a liberalizing regime, a national ceasefire agreement, and a multilateral peace dialogue between the state and ethnic minorities.
Winning by Process argues that stalled conflicts are more than pauses or stalemates. "Winning by process," as opposed to winning by war or agreement, represents the state's ability to gain advantage by manipulating the rules of negotiation, bargaining process, and sites of power and resources. In Myanmar, five such strategies allowed the state to gain through process: locking in, sequencing, layering, outflanking, and outgunning. The Myanmar case shows how process can shift the balance of power in negotiations intended to bring an end to civil war. During the last decade, the Myanmar state and military controlled the process, neutralized ethnic minority groups, and continued to impose their vision of a centralized state even as they appeared to support federalism.
Authors:
Jacques Bertrand (Professor of Political Science and Director of the Collaborative Master's Program in Contemporary East and Southeast Asian Studies at the Asian Institute, University of Toronto)
Alexandre Pelletier (Assistant Professor of Political Science, Université Laval)
Ardeth Maung Thawnghmung (Professor of Political Science, University of Massachusetts, Lowell)
Discussants:
Nick Cheesman (Associate Professor, Department of Political and Social Change; Director, Myanmar Research Centre, Australian National University)
Matthew Walton (Assistant Professor in Comparative Political Theory, Department of Political Science, University of Toronto)
Chair: Rachel Silvey (Richard Charles Lee Director of the Asian Institute and Professor in the Department of Geography & Planning, University of Toronto).
******************************************************************************
U of T COVID-19 planning update
While the current pause in our mandatory mask requirement continues, the use of a medical mask in high-density indoor spaces when physical distancing is not possible is strongly encouraged during the period when cases are rising in Ontario. The University is a mask-friendly environment, and we ask everyone to respect each other's decisions, comfort levels, and health needs. The University will continue to monitor public health conditions over the coming weeks as September approaches to adjust our response as needed, and we will update you on any changes.