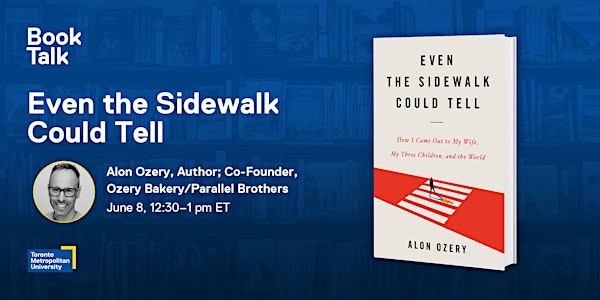 Book Talk: Even the Sidewalk Could Tell with Alon Ozery
This event is part of Book Talk, a webinar series for TMU's alumni and friends.
About this event
Join us for a special Pride Month Book Talk featuring alumni author, Alon Ozery's (TRSM '96) memoir, Even the Sidewalk Could Tell: How I Came Out to My Wife, My Three Children, and the World. In this Book Talk, Alon sits down with Dan Cantiller, Co-Chair, Positive Space at Toronto Metropolitan University, to discuss his memoir.
About the Book:
What does it cost to live an inauthentic life? If anyone knows, it's Alon Ozery. Born in Toronto to an Orthodox Jewish father and a British mother, raised in Israel, and educated in Canada, Alon didn't come out of the closet until he had a wife and three children. From his childhood on the shores of the Mediterranean to dodging young women and ducking work in the motor pool of the Israeli army, Even the Sidewalk Could Tell relates Alon's winding journey to discover his true self. A funny, heartwarming tale of honest self-reflection, this brave memoir shows what it means—and what it ultimately takes—to claim self-acceptance, create inner peace, and march forward into the best version of yourself.
50% of book sale profits are donated to Friends of Ruby in Toronto. They are dedicated to the progressive wellbeing of LGBTQI2S youth through mental health services, social services and housing.
About the Author:
Born in Toronto and raised in Israel, Alon returned permanently to Canada at age twenty-one, earning his undergraduate degree in hospitality management from Toronto Metropolitan University (formerly Ryerson University). He married at age twenty-four and raised three children with his wife.
Alon is the Co-Founder of Ozery Bakery, a commercial bakery that sells natural baked goods across North America. He also co-owns the successful Parallel Brothers, a restaurant and sesame butter brand located in Toronto.
Alon began exploring his inner self in his midthirties. He is still on that journey today.
About the Moderator:
Dan Cantiller (he/him) is a Decision Support Analyst with the Office of the Dean at the Ted Rogers School of Management. He is also co-chair of the Positive Space Faculty & Staff Network with Michael Turco. Dan completed his M.Ed in Post-Secondary Studies from Memorial University of Newfoundland, Hon.BSc in Ecology and Psychology from the University of Toronto, and a certificate in Indigenous Knowledges & Experiences with the G. Raymond Chang School of Continuing Education. Dan serves as the Director of Inclusion & Anti-Oppression with Forte - Toronto Gay Men's Chorus, and as a Director-at-Large with the Canadian Association of College and University Student Services (CACUSS). He tweets about Canadian higher education Student Affairs, reality TV and memes @DanCanThinks.
***************
We are committed to hosting an inclusive and accessible event for everyone. Please contact laura.greflund@ryerson.ca if you require accommodations.