4 week Boost Your Selling Power interactive webinar series. Consultative sales approach with David Cohen.
About this event
Introducing the Empathy, Questions, Solve Problems, Patience (EQSP) approach to selling, focusing on how to position yourself in the market place and specifically working with your clients and customers.
Sep 15, 2021 9:00 AM
Week one: We explore using a "Consultative" selling style, that is easy and profitable. We begin seeing how the 7 step sales process works with the focus on being Prepared to sell.
Step 1 - Ensuring you are ready emotionally, physically, mentally and strategically!
Step 2 - It's all about the power of research - knowing both your market/clients/industry is the key to successful sales results.
Sep 22, 2021 9:00 AM
Week two: Learning about Niche marketing. Review case study that helped one entrepreneur get much better results.
Step 3 - What is prospecting and outreach? Even retailers benefit from having meaningful conversations with prospective customers. We review the methods of engaging with your customers and prospects to build trust.
Step 4 - Looks at leading good initial meet and greets (1st impression) with your customer and understanding what they need, budgets and challenges. Letting them know you are informed when presenting ideas and solutions.
Sep 29, 2021 9:00 AM
Week three: Knowing what your customer wants, needs and why helps to refine your methods of presenting a solution to their challenge.
Step 5 - This key step is presenting your ideas, products and solutions. A consultative sales approach is known as solutions selling, where you gain clarity and assess the client's/customer's true needs, hopes, challenges, goals and budgets. It's important to determine if you have what they need or whether you can tailor your offering to customer's satisfaction.
Oct 6, 2021 9:00 AM
Week four: The three key elements of making a good presentation.
Step 6 - The first element is the importance of asking for the business; second is being open to pushback or reluctance from your customer. Let's face it...you can't win them all. Objections come with the territory. Customers say no all the time but that's ok. Building trust and a strong relationship keeps the door open for future business. Finally, the third element is negotiation. Working out a win-win solution for you and your buyer is good for everyone.
Step 7 - Stay in touch! Nurturing the client relationship can be a low cost effort to future success and growth.
Join all 4 Weeks through Zoom Registration Link: https://kawarthalakes.zoom.us/meeting/register/tZIpcO2vqTMtGNFc7b_-yi5dlit1rfOMoUW6
Speaker Bio:
David Cohen is an author, business coach, and facilitator and the former host/producer and creator of the small business big ideas show heard weekly for over 9 years. David has taught thousands over the years in both the non-profit and for-profit sectors and has coached hundreds of start-ups to make those important first steps. he specializes in helping small business owners mine their strengths, get clear on their value, their markets and then begin to develop a sales and marketing game plan that gets results.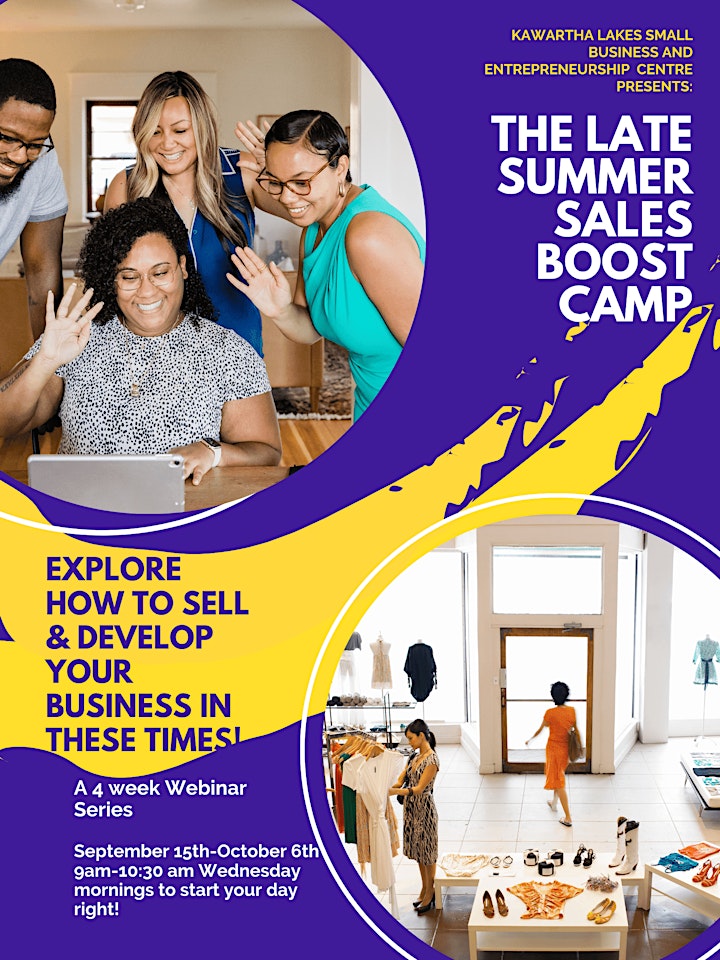 Organizer of Boost Your Selling Power