Boreal Nature Series: Vegetation Management for Industry Site Reclamation
Boreal Nature Series Webinar: Vegetation Management for Native Plant Communities on Industry Reclaimed Sites
About this event
Vegetation Management Practices for Accelerating Dominance of Native Plant Communities on Industry Reclaimed Sites
Wednesday, June 23, 2021
6:00pm – 7:00pm
Open to anyone interested in science and our boreal backyards (no need to be a researcher or industry professional)! As part of the Boreal Nature Series, this webinar features Dr. Mark Baah-Acheamfour from the NAIT Centre for Boreal Research.
In northern Alberta, industrial and economic development is often accompanied by the removal of forest vegetation and other disturbance events. Utilizing effective reclamation approaches that speed up reforestation are needed once resource extraction is complete. The goal of this project was to comparatively test the principle of accelerating cover dominance of native plant communities to the exclusion of undesirable pioneer species on reclamation sites from two perspectives: the first was to utilize a series of vegetation management treatments that are thought to have immediate, short-term impacts (suppression or stalling) on the growth and productivity of undesirable vegetation. The second approach applied in combination with the first employed different native plant treatments to fully occupy the industrial site (effectively removing the available real estate for non-native plant invasion) over a more extended period.
Dr. Mark Baah-Acheamfour is a Forest Reclamation Research Associate with the NAIT Centre for Boreal Research. He supports the implementation and execution of applied research projects, including data analysis and scientific report writing. As a soil scientist, he is interested in soil organic matter, dynamics, stabilization processes, and how these are affected by soil management in forest and agricultural ecosystems.
Please register for access to the webinar link. The link will be also be sent out via email to registered attendees prior to the event.
We hope to see you online!
Questions can be directed to Rielle at riellem@nait.ca
Thank you to NSERC and our sponsors of 'Partners in Boreal Education: Canadian Forest Products Ltd., Mercer Peace River Pulp Ltd., West Fraser Manning Timber Co., Boucher Bros Lumber Ltd., Zavisha Sawmills Ltd., and FRIAA.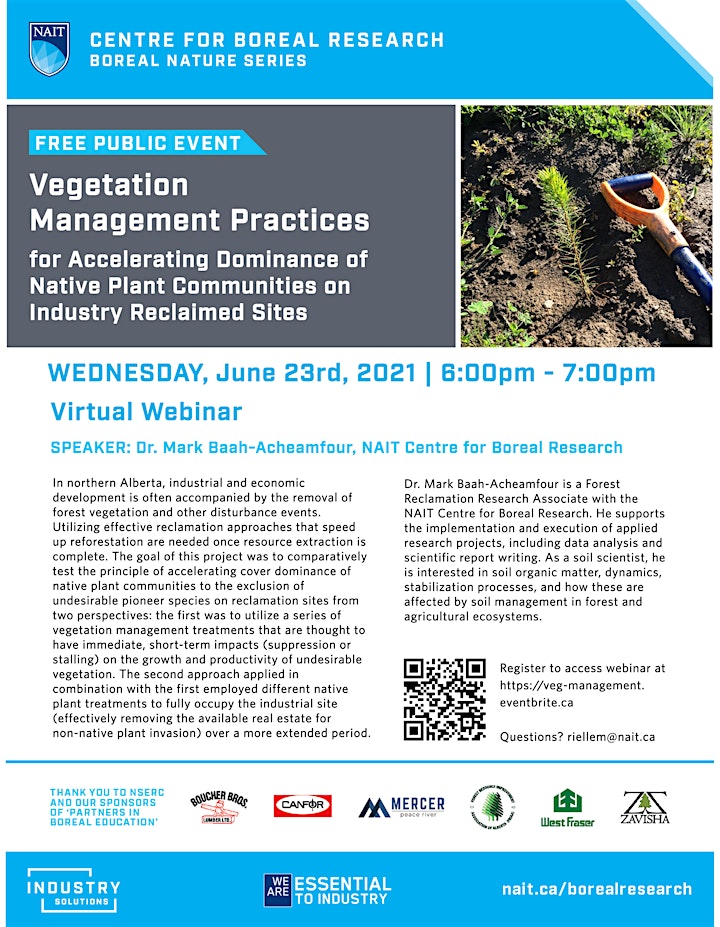 Organizer of Boreal Nature Series: Vegetation Management for Industry Site Reclamation
Our mission is to promote the informed use of boreal resources through applied science, education, and partnerships with industry, government agencies, practitioners and academics.
The Centre for Boreal Research (formerly Boreal Research Institute) is a leader in applied research relating to forest and peatland reclamation, and is an essential partner for applied science, innovation and enterprise development in Alberta's boreal forest region. With joint funding from the Natural Science and Engineering Research Council of Canada and industry partners, the Centre for Boreal Research has established two Industrial Research Chairs for Colleges to advance research in boreal reclamation, reforestation and peatland restoration. Housed in a 9,000-square-foot, state-of-the-art research facility located in Peace River, 500 kilometers northwest of Edmonton, it is staffed by a team of research scientists and technicians with professional designations in forestry, biology and agrology.