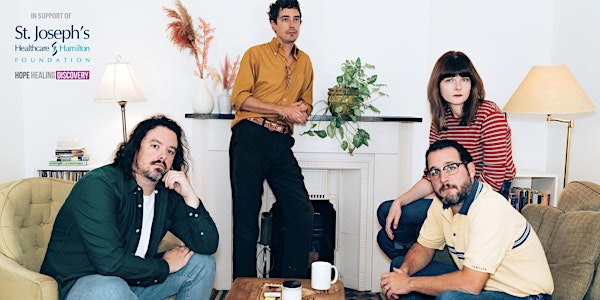 Born Ruffians
Ages 19+
Benefit Concert for St. Joe's
Born Ruffians with guest Loviet — Live at Bridgeworks!
When and where
Location
Bridgeworks 200 Caroline St. N. (off Barton St. W.) Hamilton, ON L8R 0A6 Canada
Performers
Headliners
More Performers
About this event
A GUITAR STRINGS & KIDNEY THINGS BENEFIT IN SUPPORT OF ST. JOE'S
Acclaimed Toronto-based band Born Ruffians are pleased to announce their 2022 JUICE, SQUEEZE & PULP TOUR in support of the band's recent trilogy series, culminating June 25 in Winnipeg. "For 13 years, we were on tour," says the band's bassist Mitch DeRosier. "Our entire adult lives were spent on the road. When such a big part of you disappears, all it means is that you're going to cherish it when it comes back - we're grateful, anxious, and excited to have tour life return this spring and to see you all again on the road." For the JUICE, SQUEEZE & PULP tour, the band—Luke Lalonde (guitar/vocals), Mitch DeRosier (bass), and Steve Hamelin (drums)—will introduce a new fourth member, Maddy Wilde, to the lineup. Following the recording of Uncle, Duke & The Chief in 2018, the band still had a batch of songs that they wanted to record, so they entered the studio without knowing what would become of them. Those prolific recording sessions churned out more and more music, resulting in a multi-album release plan: JUICE (2020), SQUEEZE (2020), and PULP (2021). Formed in rural Ontario, Born Ruffians arrived on the Toronto scene in 2004 and released a self-titled EP in 2006 on XL/Warp Records. The latter released the band's debut full-length album, Red, Yellow & Blue and Say It (2010). Birthmarks (2013) and RUFF (2015) followed on Yep Roc Records and has received critical praise from NPR, Pitchfork, Stereogum, Noisey, Magnet, Under The Radar, and more.
Instagram | Facebook | Twitter | Spotify | Apple Music
•
If 2020 was a rollercoaster, 2021 is the theme park. It's the only way rock-pop singer-songwriter Loviet can explain it. The quick ride of last year's three-song EP Everyone Knows the Thrill When it's Over turned out to be just a taste of the expansive set her upcoming fall album has to offer. With this second release, she boldly introduces sound versatility to the speakers, lyrical variety to the ears and a burgeoning songwriter to the crowds. Loviet's kept her signature, shimmery hooks and tell-all emotions rooted in party sweat, but mastered a cathartic flavour in all seven songs she wrote, sang and produced during 2020's planet-wide period of self-reflection. Led by the lead single, "Dullshine", the album's romanticized teen memories, inner battles won and lost, and existential sparring with the future easily duet with classic '90s grunge and '80s synth on the side. The whole album's nostalgic thread pulls together a generational gist wrapped in poetic power that anyone can relate to. As her body of work grows, it's clear that Loviet's here to take up some serious space on the edge of pop's dancehall mold. A good measure of fuck-it undertones live in her exhales to help counterattack the industry's plastic and emphasize her see-through approach to real stories and guttural songs. It's a deliberate move by an artist who wants to see where things can go before they close the gates. This is a tour of her theme park after all.
Instagram | Facebook | Twitter | TikTok | Spotify | Apple Music
••
General Admission standing 19+ event. Mobility accommodations available upon request. Valid government issued photo ID is required in order to enter. Artists and schedule subject to change. Event subject to change in support of evolving public health protocols. All sales final; no refunds.
••
ABOUT GSKT
On October 31, 1997, at the age of 19, David Angus received a kidney transplant from his father, Ken. This marked a new start in David's life after living with kidney disease since he was six months old. In April 2016, David was aware that the 20th anniversary of this remarkable event was fast approaching, and he saw an opportunity to use this milestone to give back to others. His idea was to host a charity concert to support Hamiltonians living with kidney disease to raise awareness for the adversity that influenced most of his life. Within a few minutes of running the idea by his father, Ken was on board. By the end of June of that year, David had connected with the Kidney Foundation of Canada to host a concert to support Hamiltonians with kidney disease to vacation at Lions Camp Dorset. This amazing facility was developed for individuals on dialysis to have a family getaway without missing their life saving treatment. With a few ideas thrown around, David's close friend, Taryn Bastead, adorned this concert's name as Guitar Strings and Kidney Things. On October 28, 2017, Guitar Strings and Kidney Things was held at Collective Arts Brewery in Hamilton. Headlined by Canadian legends, The Lowest of the Low, and supported by Gauer (formerly as The InBetwe3n) and comedian Adrian Cronk, the sell out crowd on hand raised over $13,000 for the cause. On May 4, 2019, David and Ken returned to Hamilton as Guitar Strings and Kidney Things raised over $27,000 to support St. Joseph's Hospital's redevelopment of their Charlton Campus dialysis unit. Their efforts helped to make the unit more patient centered for the over 600 people who receive treatments each week. For David and Ken, there is always more work to be done.