Climbers, Sean McColl & Alannah Yip, share their journey from growing up in North Vancouver to the Tokyo Olympics 2020.
About this event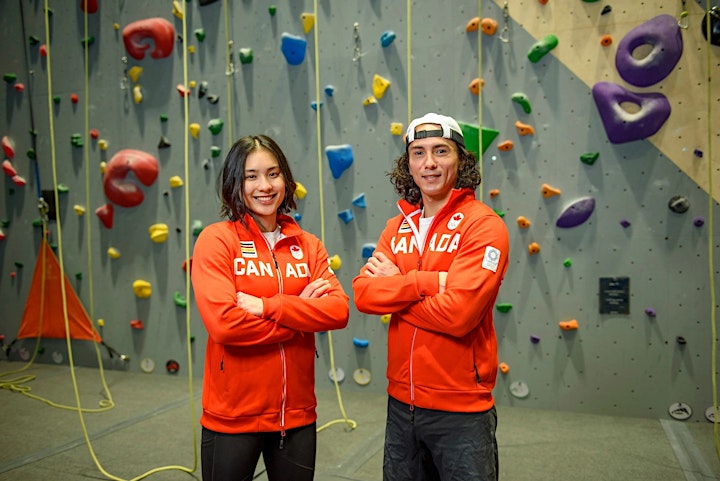 Sean McColl and Alannah Yip made history this summer as the first Canadians to qualify for the Sport Climbing Event at the Tokyo Olympics. Sports Climbing is a new event at the Olympics and combines speed climbing, bouldering, and lead.
Both Sean and Alannah grew up in North Vancouver, in fact they were close childhood friends. Join us as we find out what makes sports climbing so unique, how they got started in climbing, and what the future holds for these local heroes.
About Sean McColl
Sean McColl started climbing aged 10. He was such a natural to the sport that he was competing less than a year later. As a youth he claimed 5 world titles, an achievement unmatched in youth climbing to this day.
Sean became a professional climber when he was 19, competing in the IFSC World Cup Circuit. He took a break to complete his diploma program at the British Columbia Institute of Technology (BCIT), before returning to World Cup competitions in 2010. McColl has earned 34 World Cup medals, most of them coming in lead climbing, with bouldering as his second-most successful discipline.
About Alannah Yip
Alannah first tried climbing when she was 6 years old, inspired by her childhood friend and Olympic team-mate, Sean McColl. She began competing at 10 years old with the guidance of her long time coach, Andrew Wilson. After attending Argyle Secondary in North Vancouver and West Vancouver, Secondary School she went on to study Mechanical Engineering at University of British Columbia (UBC).
Alannah Yip earned her place in the Olympics by winning the combined event at the 2020 Pan American Championships in Los Angeles. In Tokyo, she recorded a Canadian record time of 7.99 seconds in the speed climbing event, finishing 14th in the combined event.
As a bit of a math geek, Alannah applies math principles to help her with her bouldering techniques and her navigation of the incredibly challenging climbs she has achieved.
About Moderator, Andy Prest
Andy Prest is the sports editor of the North Shore News in North Vancouver and the author of a biweekly humour/lifestyle column. His own humour and lifestyle is shaped by coaching multiple youth soccer and baseball teams all at the same time.
This programming is generously supported by the Port of Vancouver | Vancouver Fraser Port Authority.