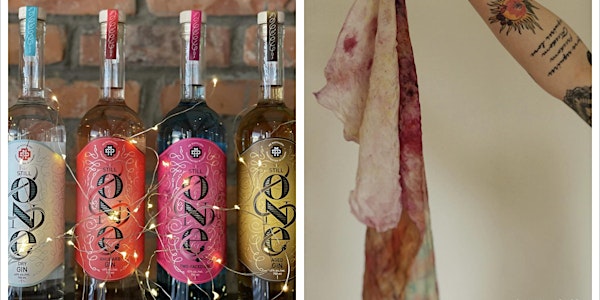 Botanical Infusion: A Flower Dyeing Silk + Gin Pairing Workshop
Join us for an experiential evening of botanical alchemy in collaboration with cocktail infusions & the magical world of flower dyeing.
When and where
Location
MD Distillery Ltd 20 Circle Drive ##100 St. Albert, AB T8N 7L4 Canada
Refund Policy
Contact the organizer to request a refund.
About this event
Set in the cozy space of MD Distillery, we will experience the playful power of plant color in the form of soft and vibrant yellows, earthy moss-like, and cosmic greens, unique turquoises and blues, lilacs, bold purples, and majestic pinks and corals. Utilize and discover pigment from fresh wildflowers, and fresh botanicals, in combination with facilitator Blaine Lunsford's personal dye collection of dried plant matter and extracts, to create a wonderous range of color and design that will be made possible working with silk as a canvas. Throughout the workshop Olivia of MD Distillery will be taking us on a journey with Gin, exploring the refined taste of this finely crafted spirit through a complimentary flight consisting of MD's Still ONE Dry Gin, Aged Gin, Rhubarb Gin & Two-Faced Gin, and a 2 oz. botanically infused feature cocktail for the full floral and botanical experience.
How is MD's gin created with botanical alchemy?
Creating gin requires the perfect balance of botanicals and distilled spirits. Our column stills were engineered and handcrafted to distill the purist of spirits. We distill from sun-baked Alberta wheat – in support of Alberta farmers and to achieve the exact flavor profile that we like. To be classified as "Gin", it must be infused with Juniper, every other botanical is an option. Over 8 months, we created Still ONE Dry Gin, infused with a balanced blend of 8 botanicals. It was designed to move the focus from Juniper and spotlight the depth of the rest of the botanicals, which you can analyze through smell and taste.
To learn more about MD Distillery and its spirits, offerings, and methods, find us on instagram:
https://www.instagram.com/mddistillery/?hl=en
How is bundle dyeing flowers on silk botanical alchemy?
The bundle dye process is unique and TRULY magical! When we dye with flowers on silk, the steaming process extracts the color from the plant matter, creating stunningly beautiful floral imprints, designs, and pigments. Participants will receive an in-depth how-to educational process throughout this workshop, highlighting specific techniques to apply to their own at-home practice. A myriad of topics, methods, and techniques will be discussed throughout, from plant pigment color theory to natural dye methods.
To learn more about Prairie Honey Creative and the natural dye process, find us on instagram:
https://www.instagram.com/prairiehoneycreative/?hl=en
The process of this workshop includes:
1) Choosing and placing flowers, herbs, and natural dye extracts onto your very own 22x22, 100% silk habatoi scarf (ideal for natural dyeing and prepped ahead of time by your facilitator to ensure long-lasting steadfast dyes and color pigment). This is where we PLAY!
Dive into the process of creation. This process is experiential, eliciting a sensory experience for the body, both externally and internally, regulating the nervous system and taking us to an active rest state, AKA, Play. Let go and feel the alchemy take flight while you sip on your gin tasters and explore the depths of botanicals in your physiology.
2) The Bundle. We will bundle our silk pieces carefully to then steam in steamer pots for a period of about 20-35 minutes, allowing the pigment to be extracted even further onto the silk via heat and steam activation. The smell will light up the room as this alchemical process takes place. Enjoy your handcrafted cocktail on us and wait for the colorful magic to take place!
3) The Reveal! Once our pieces have finished steaming and the plant color is fully extracted, binding onto the silk, we will unwrap and unveil the unique and colorful work and beauty each participant has created. Feel free to hang out, visit, admire and explore MD's other spirits and distillery.
This workshop is rooted in soul activism, ecology, slow fashion initiatives, the science of play, nervous system-based regulation practices, ecosomatics, color theory, botanical alchemy, ceremony, ritual, connection, appreciation for finely crafted spirits, and community.
Charcuterie from local sources will be provided to pair with your cocktails and spirits.
20 Participant Maximum.
Due to the supplies-based nature of this workshop, no refunds are available. Kits and a complimentary gin cocktail set will be available if unable to attend.