Learn about how to plan events in Canmore and Banff, including timelines and how to navigate municipal approvals.
About this event
Is your Bow Valley non-profit considering planning an event? Learn about event planning in the towns of Canmore and Banff for your non-profit in this free and informative webinar. Discover how to navigate the municipal event planning processes, including timelines. With event specialists, Eamonn Reil from the Town of Banff and Lauren Thomas from the Town of Canmore.
Learn:
How to plan events in the towns of Canmore & Banff
Types of events that require municipal approval
How to navigate the municipal approval process
Timelines
Speakers
Lauren Thomas, Event Coordinator, Town of Canmore
Lauren Thomas is a seasoned Stage Manager with almost two decades of experience in the performance arts and special event coordination. In her current role of Events Coordinator with the Town of Canmore, Lauren strives to produce community minded events that create meaningful engagement for residents and visitors to Canmore alike. She believes that in a time of isolation and forced digital connection, it is imperative to provide her community with opportunities for safe, in-person, human contact.
Lauren started her career after graduating from the University of Alberta with a Bachelor of Fine Arts, majoring in Stage Management. Upon completion, she ventured out into the Edmonton Theatre community honing her skills working along side a plethora of esteemed artists. In 2021 Lauren completed the Arts Leadership Graduate Diploma program at Queen's University.
Eamonn Reil, Visitor Event Specialist, Town of Banff
Eamonn began his career in Events in 1998 in theatre production before beginning a Stage Management apprenticeship with Canada Actors Equity Association. During this time Eamonn also completed a BA with Honours in Dramatic Art from the University of Windsor. Eamonn has worked as Stage Manager across Canada before moving into Producing Theatre and Events as the Operations Manager for the Sudbury Theatre Centre, the Manager of Audience Services for Banff Centre and now the Visitor Event Specialist for the Town of Banff.
Outside of Theatre, Eamonn has produced an eclectic assortment of non-traditional events: The Fright Nights Haunted Walks for the St. Lawrence Stage Company, Colasantis Horror Hayride and Indoor Maze, LGSSA Basketball Tournaments, Pop Up Concerts, Concerts for Kids, and work in the Film and TV industry. Eamonn is also a musician, playing the Bodhran at gigs and sessions for over 20 years. Eamonn is married to Violist and Coordinator of the BISQC Compilation Jane Russell, and has 2 kids Samson (3) and Winnie (1).
Eamonns favourite part of event planning is cracking open the budget and laying out the site map. When it comes to events Eamonn believes in Safety first (well coffee first because you can't be safe if you haven't had your coffee) and that events (and art) are ultimately about people.
Event Sponsors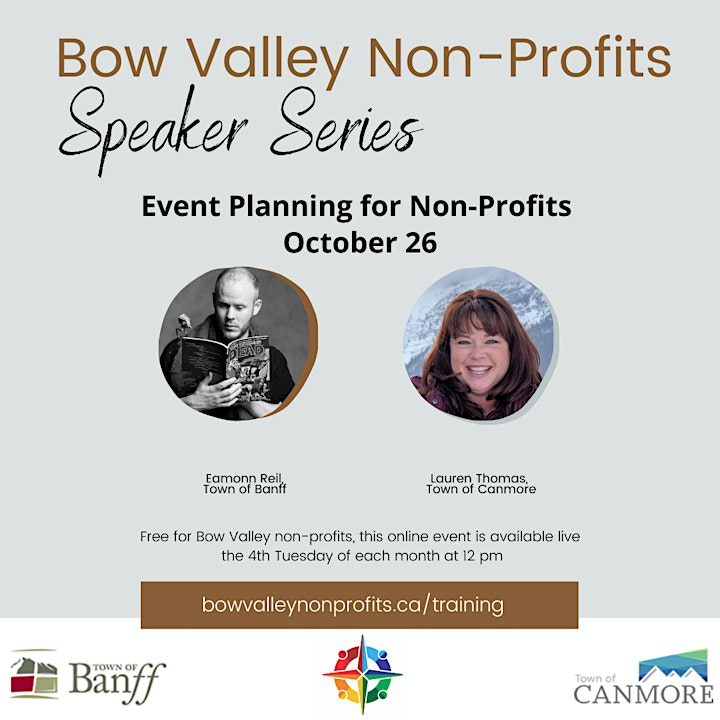 Organizer of Bow Valley Non-Profits Speaker Series - Event Planning