Description
Be Inspired is pleased to announce the Boys Hangout event for boys ages 10-15. This event will feature a tarbiyyah session followed by an indoor basketball/soccer session.
The tarbiyyah session will educate about the dangers of selfishness and isolation, promoting a culture of togetherness and involvement, led by Br. Fiyaaz Jaat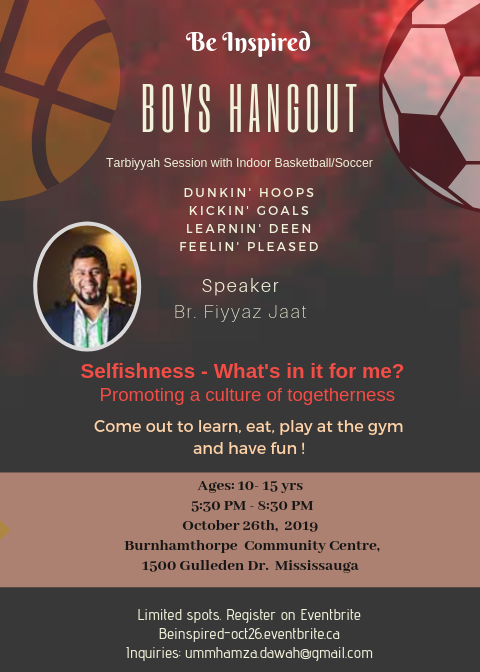 Selfishness is a concept where a person does not think about anyone or anything that is not of their own interest or puts importance on their own interest over others. Thus, to attain righteousness in Islam, a person must avoid being selfish. Remember, our beloved Prophet Muhammad peace be upon him, reminded us to want for our brother what we would want for ourselves.
Therefore, we must cultivate a sense of community and a passion for servitude in our youth.


About Br. Fiyyaz Jaat
Br. Fiyyaz Jaat currently serves as the Director for the Youth Development department for ISNA US. He is a well sought out advisor, counselor, and speaker. He attended ISNA Elementary under the guidance of Sh. Abdalla Idris Ali, and studied computer science at Ryerson University. As MYNA Toronto's former advisor, he has dedicated his life to empowering youth with leadership skills as they explore their identity in the West. He hopes to bridge cultural and communication gaps between parents and teens.
Fiyyaz currently sits on the ISNA school board and is a former member of the majlis youth council which governs ISNA's youth department. His most recent project co-founded along with his wife, Blackstone Youth is a mentorship program for Muslim youth, placing them in groups with mentors who suit their needs and help them to reach their full potential.
As a dynamic role model and leader, and a caring mentor, Br. Fiyyaz is beloved by youth and parents alike. He has presented at community events, masjid, high school, and university events on numerous topics across Canada and the United States and can always be found at a MYNA camp near you!
This event is a great opportunity for youth to learn about Selfishness in Islam, in an informal, fun social setting.
This program is for boys ages 10-15 years. Pizza will be served.
Registration is required for attendance. Spaces for this event are limited! For additional inquiries email ummhamza.dawah@gmail.com
This is a youth-only drop off program, parents/adults are not allowed inside the program rooms
We're not responsible for the loss of any personal belongings and/or injury due to inherent risks of any sport/game
By registering you give us (and our appointed photographer/videographer) consent to take event photos/videos which may be published on our upcoming website, our social media, and other media to promote our programs
Registration fee and program details are subject to change, without any notice
Only confirmed guest speakers are announced, but if there is any unexpected situation we may make changes
We reserve the right to postpone or cancel due to low enrollment, inclement weather conditions, or any unforeseen circumstances beyond our control. In a rare event when this happens, registrants will have the option to either receive a full refund or transfer the same registration to the same or similar event at the new, future date