About this Event
Our kids' curiosity often leads them to ask questions such as, why were we created? What is our purpose in life? And why the world was created? Leaving them without satisfying their thirst for answers can often leave them lost and confused.
This brings us to the topic for our upcoming Boys Hangout on November 30, 2019 for boys ages 10-15, "Why does God ask people to worship him?" Sh. Hosam Helal will answer this question in a fun and interactive session.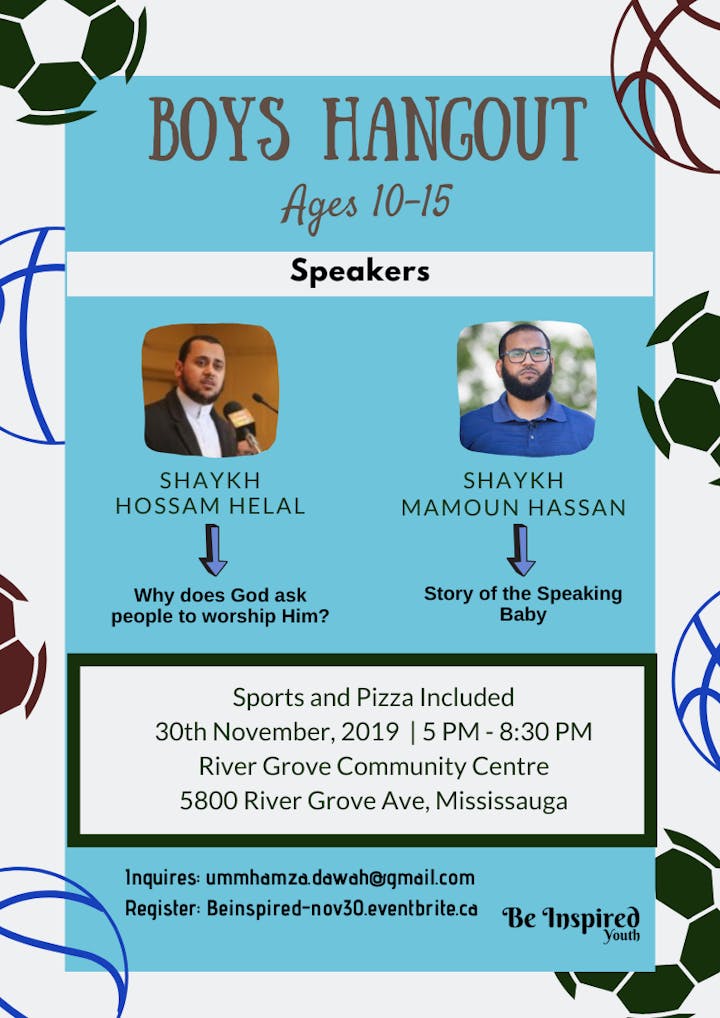 In addition your children will get the chance to hear a very interesting narration of the Story of the speaking Baby. Our very talented speaker Imam Mamoun Hassan will explore this topic thoroughly.
Our Speakers
About Imam Mamoun Hassan:
Mamoun S Hassan is a community developer, activist, public speaker and culture producer. For over ten years Mamoun has served as a Muslim imam, associate chaplain and as a spiritual health visitor at the Greater Niagara Health system. Mamoun has taught Islamic History, comparative religion, and modern day implications of religiosity. He specializes in telling Muslim stories through documentaries, short films and music videos. He's the host of IIT podcast hour, Friday: Decoded!, and the online series Virtuous Living.
Mamoun holds a degree in communication and Media studies, film production, and is traditionally trained in Islamic sciences.
Mamoun is a media consultant for various Islamic organizations, and has served as the executive producer for the television show Let the Quran Speak and the editor and chef for Al -Muslim Post, and also sits on various Islamic organizations boards.
Mamoun currently lives in the Greater Toronto area with his wife and children.
About Imam Hosam Helal:
Shyakh Hosam Helal is currently a chaplain at Brock University, student at U of T and Al-Azhar, and a Youth Counsellor and Educator at ISNA Canada. He has served as Imam, Khateeb, and instructor for 10 years at several Masajid and Universities throughout Canada and the United States. He is also the founder and instructor of Quran Journey.
He memorized the Quran at the age of eight and has since received several Ijazahs in its various recitation styles. He completed his Islamic education in Quran exegesis through Al-Azhar University and studied under the guidance of several Shyookh including his father, Shaykh Ibrahim Helal, an instructor at Al-Azhar. He completed his education in Health & Disease, Near & Middle Eastern Civilization, Sociology, and Neuroscience at the University of Toronto.
He currently resides in Hamilton, Ontario, Canada with his wife and family. He loves soccer/football, horseback riding, videography, sushi, swimming, and programming.
This program will allow your child to explore Islam in a positive environment and ask questions that can be answered by knowledgeable and sincere Shuyookh.
Part of the schedule includes sports. Pizza and drinks will be provided.
For more information contact: ummhamza.dawah@gmail.com
Note:
Registration is required for attendance.
This is a youth-only drop off program, parents/adults are not allowed inside the program room or gym.
We're not responsible for the loss of any personal belongings and/or injury due to inherent risks of any sport/game
By registering you give us (and our appointed photographer/videographer) consent to take event photos/videos which may be published on our upcoming website, our social media, and other media to promote our programs
Registration fee and program details are subject to change, without any notice
Only confirmed guest speakers are announced, but if there is any unexpected situation we may make changes
We reserve the right to postpone or cancel due to low enrollment, inclement weather conditions, or any unforeseen circumstances beyond our control. In a rare event when this happens, registrants will have the option to either receive a full refund or transfer the same registration to the same or similar event at the new, future date