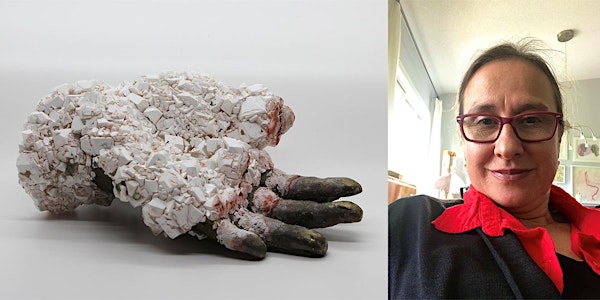 Multiple dates
Bozica Radjenovic – Artist tours | Visites guidées avec l'artiste
Bozica Radjenovic - The Flood Line (Délaissé de crue)
By Public Art Program | Programme d'art public
When and where
Date and time
Sun, Aug 15, 2021 2:00 PM - 4:00 PM EDT
Location
Karsh-Masson Gallery 110 Laurier Avenue West Ottawa, ON K1P 1J1 Canada
About this event
La version française suit;
Artist tours
Sunday, August 15 at 2 pm and 3 pm
Free admission. Presented in English. Registration required
Event protocol:  
Masks required  
Sanitizer stations available  
 Limited number of people permitted in gallery at one time
Please check the latest Ottawa Public Health safety guidelines prior to your visit.
The exhibition continues until September 19, inclusively.
With this new body of work, Radjenovic expands her artistic repertoire, casting bronzes from soft knitted sculptures and growing borax crystals on her pieces. She also uses her long-held knowledge of wood carving to create round hand-built structures. These various materials come together in a series of assemblages and installations that are at once stunning and mysterious. Meanwhile, the walls are hung with drawings characterized by the artist's dreamlike language.
The Flood Line explores the theme of ecological and emotional overflow, evoking events that leave traces on our bodies and minds, just as high water does on the natural environment. A forest of plinths inhabits the centre of the gallery, topped by a treasure trove of hybrid sculptures. Natural objects commingle with human relics: the shattered remains of a human statue are encrusted with debris, fossilized fragments of prehistoric plants, spring roots… All these objects appear to have been washed up by a flood and left to dry atop of reconstructed trees.
- Exhibition booklet excerpt by Jenny McMaster
Biography
Bozica Radjenovic was born and educated in Belgrade, Serbia. She received her BFA (1989) and MFA (1991) from the Faculty of Fine Arts in Belgrade. In 1993 she moved to Canada. Radjenovic's work has been featured in many solo and group exhibitions, most recently at the International Print Centre New York; the Ottawa Art Gallery's inaugural exhibition; the Biennale internationale du lin de Portneuf, in Quebec; and the Belgrade Cultural Center, in Serbia. Her work is included in the collections of the Museum of Contemporary Art in Belgrade, the Zepter Museum in Belgrade and the City of Ottawa, as well as in various private collections in Canada and Europe. She is represented by Central Art Garage.
The artist gratefully acknowledges the support of the City of Ottawa, the Ontario Arts Council and the Canada Council for the Arts.
KARSH-MASSON GALLERY
Ottawa City Hall, 110 Laurier Avenue West
613-580-2424 (14167) TTY 613-580-2401
https://facebook.com/karshmasson
Open daily 9 am to 8 pm, including holidays.
Free admission. Wheelchair accessible.
\\
Visites guidées avec l'artiste
Le dimanche 15 août à 14 h et à 15 h.
Entrée libre. Présentée en anglais. Inscription préalable obligatoire.
Protocole en place : 
Port du masque obligatoire 
Postes de désinfection des mains disponibles 
Un nombre limité de visiteurs pourront être admis à la fois dans la galerie 
Avant votre visite, veuillez consulter les toutes dernières lignes directrices en matière de sécurité émises par Santé publique Ottawa.
L'exposition continue jusqu'au 19 septembre inclusivement.
Dans cette nouvelle série d'œuvres, Radjenovic s'aventure au-delà de sa pratique artistique habituelle. Elle a créé des sculptures de bronze qu'elle a mariées à la douceur du tricot ou serties de cristaux de borax. Mettant à profit sa maîtrise de la gravure sur bois, elle a façonné à la main des structures organiques. Ces diverses matières s'assemblent et s'allient en des installations dont le caractère saisissant et mystérieux nous happe d'emblée. En périphérie, les murs garnis des dessins de l'artiste murmurent son langage onirique.
L'exposition The Flood Line (Délaissé de crue) navigue sur le thème du débordement de la nature et des émotions. Elle évoque ces évènements qui laissent des marques sur nos corps, nos esprits, tout comme la marée haute sur un habitat naturel. Au centre de la galerie se déploie une forêt de socles de bois couronnés de précieuses sculptures hybrides, où s'amalgament des éléments de la nature avec des parties du corps humain. Les éclats d'une statue de forme humaine sont ainsi incrustés de débris, de fragments fossilisés de végétaux préhistoriques, de jeunes pousses… Les uns comme les autres semblent avoir été victimes d'une inondation, puis mis à sécher sur la cime d'arbres reconstruits.
- Extrait du livret de l'exposition rédigée par Jenny McMaster
Biographie
Bozica Radjenovic est née à Belgrade, en Serbie. Après avoir obtenu son baccalauréat (1989) et sa maitrise en beaux-arts (1991) à la Faculté des beaux-arts de Belgrade, elle s'est installée au Canada en 1993. Elle a participé à de nombreuses expositions solos et collectives, dont les plus récentes se tenaient à l'International Print Centre New York, à l'exposition inaugurale de la Galerie d'art d'Ottawa, à la Biennale internationale du lin de Portneuf (Québec) et au Centre culturel de Belgrade (Serbie). Ses œuvres font partie des collections du Musée d'art contemporain de Belgrade, du Musée Zepter de Belgrade et de la Ville d'Ottawa, ainsi que de collections privées au Canada et en Europe. Elle est représentée par le Central Art Garage.
L'artiste tient à remercier la Ville d'Ottawa, le Conseil des arts de l'Ontario et le Conseil des arts du Canada pour leur soutien.
GALERIE KARSH-MASSON
Hôtel de ville d'Ottawa, 110, avenue Laurier Ouest
613-580-2424 (14167) ATS 613-580-2401
ottawa.ca/galeriekm
facebook.com/karshmasson
Ouverte tous les jours de 9 h à 20 h, y compris les jours fériés.
Entrée libre. Accessible en fauteuil roulant.

About the organizer
The City of Ottawa Public Art Program collects, commissions and exhibits artwork to create conversations and make art accessible to everyone. Art is integrated into our daily lives through the City of Ottawa Art Collection, public art commissions, and exhibitions at Karsh-Masson Gallery, City Hall Art Gallery and Corridor 45|75.
Avec son Programme d'art public, la Ville d'Ottawa collectionne, commande et expose des œuvres pour susciter la discussion et rendre l'art accessible à tous. La collection d'art et les commandes d'œuvres publiques de la Ville ainsi que les expositions de la Galerie Karsh-Masson, de la Galerie d'art de l'hôtel de ville et du Corridor 45|75 sont autant de moyens par lesquels les arts peuvent se greffer au quotidien.