Description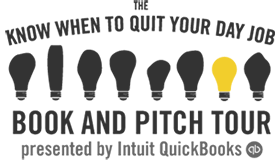 Brad Feld and Sean Wise are hitting the road to promote their new book Startup Opportunities: Know When to Quit Your Day Job.
This larger-than-life pair will take on five key Canadian cities where local companies will pitch to a Dragon's Den-style panel for an opportunity to be selected for a $25K investment. Who'll be pitching in Waterloo Region? You'll hear from WeMesh, Pout, Suncayr and Doordrop.
Get in the audience. You'll receive a hard copy of the book (with on-site book signing to boot), have the chance to ask these guys anything, plus Plasticity Labs' Jennifer Moss hosts a discussion between Brad and Sean where you'll get tips to decide whether you've got a solid idea, or if you shouldn't quit your day job just yet.
Let's stand out and make Waterloo Region's startup community memorable! Come dressed to impress in your craziest Brad Feld Hawaiian-style shirt or your best Green Lantern gear in honour of Sean Wise.
Cancellation Policy: For a full ticket refund, notice must be given prior to noon on Friday, March 20.
Thank you to our sponsor City of Kitchener
We would also like to acknowledge the generous support of the National Sponsors for this event: Intuit Canada, BDC Capital, SVB Canada, Startup Canada, Wiley Canada, Canadian Business/PROFIT
Say "Thanks" to our sponsors over Twitter:
@CityKitchener, @QuickBooksCA, @BDC_Capital, @SVB_financial, @Startup_Canada, @WileyBiz, @cdnbiz
---
We have an awesome community. And we like to show it off.

Please be advised that photographs and video may be taken at Communitech events for use on Communitech web, print and social properties. We won't sell your photo, but we may share it with media and/or partner organizations. By attending this and any Communitech event, you consent to being photographed and/or filmed, and to your image or likeness being used at Communitech's discretion.
Organizer of Brad Feld Book Tour
Communitech was founded in 1997 by a group of entrepreneurs committed to making Waterloo Region a global innovation leader. At the time it was crazy talk, but somehow this community managed to pull it off. Today, Communitech is a movement of more than 1,400 companies – from startups to scale-ups to large global players. 
Communitech helps tech companies start, grow and succeed in three distinct ways.
1. Communitech is a place – the center of gravity for entrepreneurs and innovators. A clubhouse for building cool shit and great companies.
2. Communitech delivers programs – helping companies at all stages with access to capital, customers and talent. We are here to help them grow and innovate.
3. Communitech partners in building a world-leading ecosystem – making sure we have all the ingredients (and the brand) to go from a small startup to a global giant.