Description
Watson Centre Society for Brain Health is dedicated to improving the outcomes and quality of life of individuals who have experienced a brain injury (or concussion). Active rehabilitation is the best way to target your brain's ability to heal, and it is never too late to start.
As a way of sharing our knowledge of evidence-based practices to the survivors that need it most, community members are now able to attend free programs and events on days our registered program is closed.
Check out our other regular events on Eventbrite.

Learn about the WCSBH program and how it is changing lives and the narrative around brain injury recovery here.
---
Are you looking for new ways to continue challenging your mind? Are you interested in reading scientific literature? Do you have an inquisitive mind and passion for research? If any of these sound like you, come join us at the Watson Centre Society for Brain Health for our Brain Bending Research Reviews on the second Friday of the month from January - April.
You will learn how to read and critically analyze scientific research articles in a group and engage in an active discussion about the article. All while challenging your mind and learning something new about neuroscience, health, brain injury rehabilitation and more!
---
What you need to bring:
A notepad, pen and highlighters!

An interest in reading scientific papers!

Most importantly, an inquisitive and open mind!

---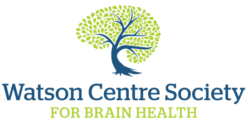 Please contact us if you have any questions
---
Accessibility Information:
Physical: WCSBH Friday Programs are located on the Second Floor, accessible by stairs or elevator. To enter the room, there are double-wide doors. Men and Women's washrooms are located directly beside the room, each with a wide corner stall, with two hand bars. Private accessible washrooms can be found in the building. There will be chairs available.
Visual: No outside windows and no flourescent lighting. There are multiple soft white lamps that can be adjusted as needed. The walls are a bright green colour.
Auditory: No buzzing or hum has been noticed in the room. Some external noises can be heard, as the space is not soundproofed. However it is located in a quieter area of the building. Sorry, we will not have an ASL interpreter available. Please let us know if this prevents you from participating.
Allergies: We are a scent-reduced space, and request attendees to refrain from using fragrances or scented products. We are a nut-free facility.
Registered Service Animals only, please.
We do not tolerate discrimination and welcome anyone that identifies as having a concussion, acquired brain injury or traumatic brain injury. Injuries do not discriminate, neither do we - based on ethnicity, sexual orientation, colour, gender identity, aboriginal ancestory, immigration status, etc.
---
Land Acknowledgement
We acknowledge that WCSBH occupies on the ancestral, traditional and unceded territories of the Coast Salish peoples. Unceded means that this land was never surrendered, relinquished or handed over in any way. We recognize that the unceded land that we occupy includes Musqueam, Skxwú7mesh, Tsleil-Waututh and Kwikwetlem peoples.