Description
The Brampton Mastermind Networking group designed to inspire, motivate and educate entrepreneurs in Brampton and parts of the GTA to successfully overcome business challenges.
The main objective of the session is to connect you with other business owners and entrepreneurs, who might give suggestions to the challenges you face, that would help grow your business. This networking group is created with the primary objective to connect your peers in a forum that helps you to discuss your challenges and think of solutions which you would not have thought about.
Afterall, 'Two heads are better than one'.
The event is broken up into three sections:

6:00pm - 6:15pm

- Registration & Grab your food & coffee

6:15pm - 6:45pm

- Expert Speaker

6:45pm - 7:30pm

- Discuss your current business challenges

7:30pm - 8:00PM

- General Networking
Expert Speaker - Derrick Raphael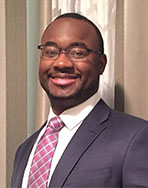 Derrick Raphael is the creator and founder of the Global Trailblazers of Today (GTT) which is a comprehensive education management company based in Brampton.
His clients include individuals, non-profits as well as several large companies based in China, India, Canada and the United States.
He leads a team of college consultants based all over the globe who provide comprehensive college preparation support to students striving to attend elite schools in the United States, Canada, the UK and elsewhere. Additional services his company provides are staffing and recruitment services for Chinese entities for full-time hires as well as video recordings to expose Chinese students to various career options and support for college as well as graduate/professional school.
Derrick Raphael is also a graduate from Princeton University, Duke University School of Law and the University of Toronto, Faculty of Law Global Professional Master of Laws program.
As a US licensed attorney Derrick has strived to impact policies which impact youth especially those hindered from educational opportunities due to socio-economic barriers.
Derrick loves to invest in his community and currently co-chairs the Brampton Mastermind (BM) program which is a monthly networking session which brings together entrepreneurs in Brampton and surrounding cities for free food and fellowship once a month at City Hall.
This year Derrick was recognized by the Brampton Board of Trade as a recipient of the Top 40 Under 40 award which highlights individuals making significant impact on the city of Brampton and beyond.
In June of 2017 Derrick Raphael began his 3-year term as the President of the Association of Black Princeton Alumni (ABPA) which serves as the umbrella group for over 2,000 black alums across the globe.
Interested in becoming a Brampton Mastermind? Join us today.
Photography Disclaimer
Brampton Mastermind & BEC reserves the right to photograph its events, and from time to time we use these photos in our website, publications & social media. By registering for any of our events, you understand and acknowledge that your photograph may be taken and used, per Brampton Mastermind & BEC discretion.