Description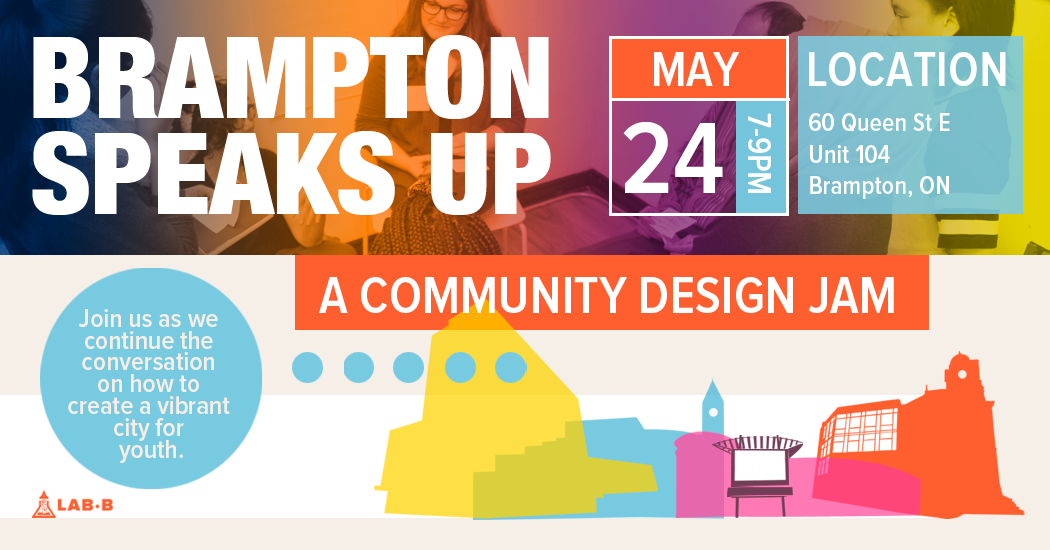 BRAMPTON SPEAKS UP

Shoutout to our families, neighbors, streets, neighborhoods, workplaces, faith organizations, clubs and schools who make up our community. All of whom come from different places and perspectives. Come together with us on May 24 to listen and discover the intersections of common concerns for the vibrancy, creative nature, and vitality of Brampton for young people. Together we'll explore the ground that's been established to change Brampton's social infrastructure, its political state, and economic climate.
There is no power for change greater than a community discovering what it cares about. - Margaret J. Wheatley

OUTCOMES:
Community workers Holly Vukobrat and Angela Bennett have designed a facilitation to draw out the opinions, conclusions, and root causes of common concerns for Brampton's vibrancy for young people. We hope these conversations will build relationships that cross some divides so that we can work together to find areas to collaborate for the betterment of our city. Get ready to record your visions, priorities, and ideas for Brampton and with that we'll come out with a list of demands to be met by City council and the public at large.

This event is for you if:
You're interested in having a meaningful discussion with your neighbors.

You feel attached to the social, cultural, political and economic state of Brampton.

You are a young person residing in Brampton or feel you are a stakeholder in the state of Brampton for young people.
OUR FACILITATORS

Angela Bennett -- Angela is a facilitator and community capacity builder who is passionate about creative process as the key enabler of change and innovation. Through human centred design process and empathy facilitation she enables deep connections and uncovers meaningful insights. She is a big picture thinker and actor.


Holly Vukobrat -- Holly is a graduate of Sheridan College's Community Worker program and has worked within the not-for-profit sector for over 5 years. Holly has been involved in social research projects that showcase existing social inequalities and has been a catalyst for Brampton's Community Conversations. She is passionate about the unveiling of social injustices and is devoted to social innovation.
---
THIS IS A FREE EVENT. RSVP NOW. LIMITED SEATING.


Photographs and video footage will be taken.

Accessible and regular parking is free during the evening at:
Rose Theatre Brampton (2 min walk)
1 Theatre Lane, Brampton, ON L6V 0A3
(905) 874-2800

City of Brampton Garage (5 min walk)
2 Wellington Street West

City of Brampton West Tower Garage (5 min walk)
41 George Street South



ACCESSIBILITY
LAB B is committed to accessibility for persons with disabilities. Please note that the main entrance to the building is going through construction and entering from the bottom floor and taking the stairs to the main floor is the only route to the event space. We apologize for the inconvenience but have been reassured by the owner that construction will finish soon.

IF YOU CAN'T MAKE IT AFTER ALL
LAB B is a non-profit organization that strives to provide great events for the benefit of the community. These events are regularly free, and therefore spots can fill up fast. Be sure to open up your spot if you can't use it. In other words, If you RSVP and are unable to make the event, please cancel your reservation or notify us at create@lab-b.ca.