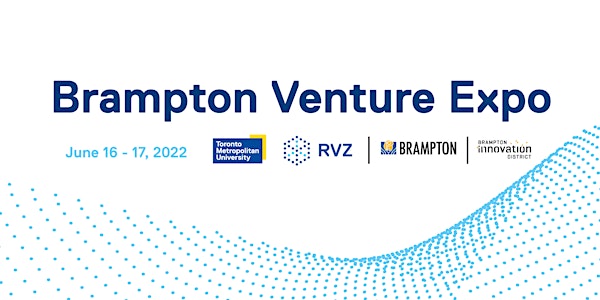 Brampton Venture Expo 2022 (Virtual)
Join us virtually at the second annual Brampton Venture Expo (BVX) by Ryerson Venture Zone!
About this event
Whether you're a startup founder or someone exploring taking the leap into entrepreneurship - this virtual event is for you!
Keep up to date on our speaker lineup and event updates here: Brampton Venture Expo Event Page
Taking place virtually with a special in-person closing event (BVX Fest @ Ken Whillans Square), this two-day innovation and community event will be centered around the merging of impactful entrepreneurship, tech, industry and business content within the rapidly growing startup and entrepreneurial community of Brampton, Ontario.
Powered by Ryerson Venture Zone in Brampton (renaming pending) and the City of Brampton, the second annual Brampton Venture Expo (BVX) will bring together startup founders, creatives, innovators, corporate executives, early-stage investors, and local talent to highlight the exciting activity happening within the Brampton Innovation District.
Join us for two days of impactful content, incredible 1:1 and group networking opportunities and access to world-class business leaders! Learn about the resources available to you as a startup in Brampton, network with other like-minded entrepreneurs, and learn whether entrepreneurship is the right fit for you.
Some of the featured sessions and events include:
An opening panel on innovation and entrepreneurship in Brampton
Building a great business brand
Creative entrepreneurship
Healthtech innovation
How startups can shape the future of cities
Drop-in virtual networking
And much more!
A new addition this year! BVX Fest @ Ken Whillans Square - The in-person closing event for the Brampton Venture Expo (BVX) on Friday, June 17 from 5:00 - 8:00 pm. This event is open to the public and will be hosted at Ken Whillans Square in downtown Brampton. Click here to register for that event separately.
About Ryerson Venture Zone in Brampton:
A joint partnership between the City of Brampton and Toronto Metropolitan University, Ryerson Venture Zone in Brampton (renaming pending) is a non-equity and not-for-profit incubator that is dedicated to building and growing early stage, high potential technology startups in Brampton. We enable connections between aspiring entrepreneurs, current founders, industry partners, mentors and customers in an environment that fosters a mindset of growth.
We believe in uplifting the city and bringing economic prosperity through Brampton's greatest asset- it's talent. Located within the burgeoning Brampton Innovation District, RVZ nurtures local entrepreneurs that help drive the Brampton economy and create impactful solutions for businesses and people in Canada and beyond.
RVZ is is part of Toronto Metropolitan University's Zone Learning network, one of the most respected university-based innovation ecosystems in the world.
For more info, visit our website:
https://www.ryerson.ca/zone-learning/venture-zone-brampton/
Follow us on social!
Instagram: @rvzbrampton
LinkedIn: Ryerson Venture Zone in Brampton
Facebook: @Rvzbrampton
Twitter: @rvzbrampton
For any questions regarding the event, including your registration please contact bramptonzone@ryerson.ca