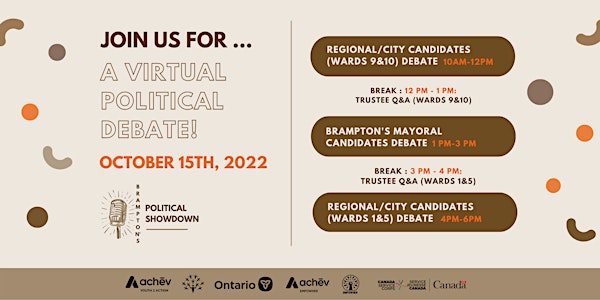 Brampton's Political Showdown
Brampton Political Showdown: Virtual Debate
About this event
Debate definition is "a formal discussion on a particular topic in a public meeting or legislative assembly, in which opposing arguments are put forward."
We wish to extend you an invitation to our "2022 Brampton Political Showdown," hosted by EmpowHer and Youth 2 Action. This will be a virtual debate on October 15, showcasing 3 separate debates between the Regional and City Councillor Candidates for Wards 9 & 10, Mayor Candidates and lastly, Regional and City Councillors for Wards 1 & 5.
It is an amazing opportunity for Brampton residents to learn more about the candidates running for the upcoming Municipal Elections. Our goal is to help voters make informed decisions. Voting is a very important part of any democracy and by voting for leaders who represent them and their ideas residents are participating in the democratic process.
The purpose of this event is to showcase all of the candidates. The aim of this is to provide a platform for Bramptonians to voice their opinion on what changes they want to see in their city, a chance for Bramptonians of all diverse backgrounds to come to a safe space and hear what the candidates have to say, we want to give people a direct connection to understanding how the candidates can mitigate their concerns and help the city thrive. This will allow people to make informed decisions about whom they want to vote for and get a chance to learn about our candidates and their views on various important topics impacting our city such as transportation, housing, taxes, immigration and more.
Email PBrahmbhatt@achev.ca for questions.
-
Are you a high-schooler?
You will receive volunteer hours for attending the event.
You may also gain additional volunteer hours by helping us market our event! You will receive volunteer hours for inviting someone who is 18+ living in Brampton.
-
Schedule for the Event
10 am to 12pm - West Brampton - Wards 9 & 10 - Regional and City Candidates
1 2-1pm - Break Time + Open-Floor Chat with Wards 9 & 10 Trustee Candidates
1pm to 3pm - Brampton-wide - Mayor Candidates
3-4 pm - Break Time + Open-Floor Chat with Wards 1 & 5 Trustee Candidates
4 pm to 6pm - East Brampton - Wards 1 & 5 - Regional and City Candidates