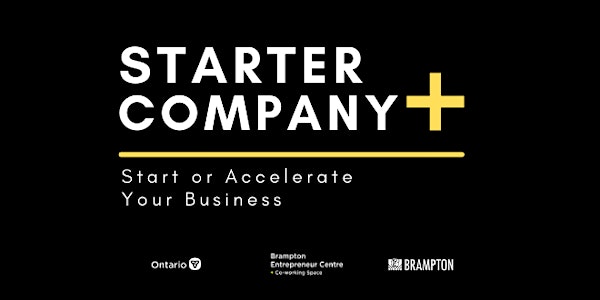 Brampton's Starter Company Plus ($5,000 Grant - Information Session Online)
Brampton's Starter Company Plus - Information Session
About this event
To apply to the Starter Company Plus Program in Brampton, you must confirm your eligibility to participate in the program and attend a mandatory information session.
Attendance at the info session does not guarantee acceptance into the program or the receipt of a program grant.
Before you can apply to Brampton's Starter Company Plus program, you must attend a mandatory Starter Company Plus info session.
This orientation session will provide you with important information about the Starter Company Plus program in Brampton including:
Eligibility requirements
Program requirements and expectations
Program training and mentorship, and schedule
Information about the program grant opportunity
If you are interested in learning more about Brampton's Starter Company Plus program and how to apply to the program, you must register for ONE of the following MANDATORY Starter Company Plus info sessions which will be offered virtually.
The Starter Company PLUS Program is delivered by the Brampton Entrepreneur Centre (BEC) for the Brampton & Caledon area. BEC is a business unit of the City of Brampton's Economic Development Office. The Starter Company PLUS program is funded by the Province of Ontario and is delivered by Small Business Enterprise Centres ("SBECs") similar to BEC across Ontario who are part of the Small Business Centre Ontario ("SBC") Network
For information about the program outside of the Brampton area, please refer to the List of Small Business Entrepreneur Centres and Community-Based Provider Locations in Ontario.
Brampton's Starter Company Plus - Information Session #1 - ZOOM
(Tuesday Aug 23, 2022 12:00 PM) https://us06web.zoom.us/webinar/register/WN_1d4bhzXGRNiW9UgxkLK74A
Brampton's Starter Company Plus - Information Session #2 - ZOOM
(Aug 25, 2022 07:00 PM)
https://us06web.zoom.us/webinar/register/WN_RgAuU8q-R3iHTiqqU-SLvw