About this Event
Workshop objectives: Get clarity on your Brand message & positioning through highly-interactive exercises, frameworks, and strategies.
Speak with intention, clarity, and in a voice you can own.
Dare to be seen, heard & understood!
___________________________________________________________________________________________________
Our methodology helps participants:
See blind spots & gain awareness on what isn't currently working for their Brand DNA
Discover powerful ways to deliver a message
Get insights on voice projection, tonality, body language & how this compares to your brand personality
Align to their Brand's top Core Values when delivering a message
Learn how to begin & end conversations with clients more powerfully to stay top-of-mind
Discover the 4 main objectives of "Brand Communication"
Listen & structure responses based on the audience's 6 Basic human needs as well as their individual fears & goals
___________________________________________________________________________________________________
Please Note: A minimum of 6 participants is suggested to run the Brand Communication Masterclass. Alternative arrangements may be made in the event that we do not fill.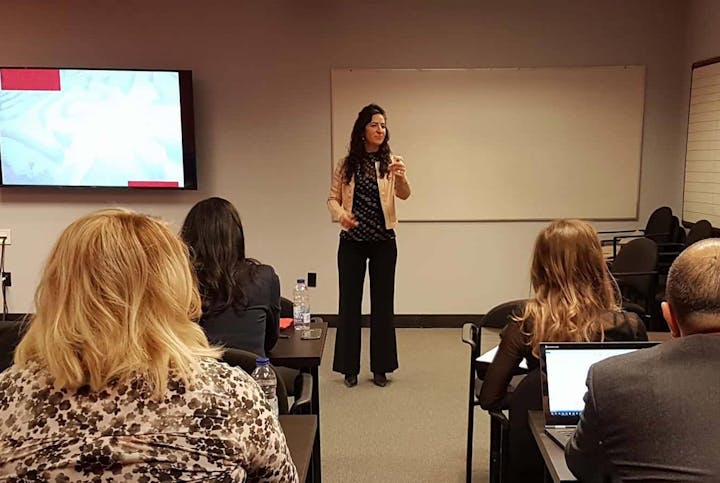 ABOUT THE TRAINER Sabrina Prioletta
SIVA MARKETING, her very first creation came to life. What was just an embryonic idea turned out to be her life purpose. Because she knew that fundamentally, people just wanted to be understood before getting noticed.
So she decided be the bridge to get them there.
And this is where her STORY OF IDENTITY TRANSFORMATION BEGAN.
A Brand Strategist, Speaker & Trainer .. she is absolutely convinced about the importance of purposeful Branding & Communication!
With over 20 years of corporate and entrepreneurial experience, she has had the privilege to work with brands such as: adidas, Molson, The Montreal Gazette, CN, Air Ambulance, Bombardier, BDC, Keller Williams, to name a few.
A Certified Dale Carnegie Trainer, she also facilitates Communication, Leadership & Presentation-skill programs aimed at delivering value you can measure.
Sabrina is also a proud member of 'CAPS' the Canadian Association of Professional Speakers.
WHAT ARE PEOPLE SAYING?
"Thanks again for a FANTASTIC presentation to the Bombardier Women in Leadership committee. The group absolutely adored you! Hope this helps them find their voice!"
Sarah Samynaden, Supervisor C.S., Bombardier Commercial Aircraft
"Excellent workshop on personal branding for BDC. Our attendees raved about Sabrina's passion and clarity. Her delivery was relevant for the audience and had a meaningful impact. Professional and enthusiastic ... , would highly recommend!"
Hannah Kellett, International Relations Advisor, BDC | Business Development Bank of Canada