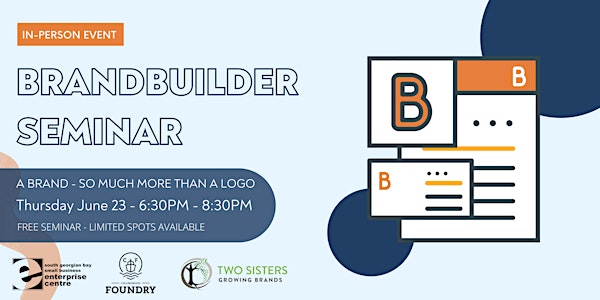 BrandBuilder Seminar - June 23
HOW CAN YOUR BRAND HELP YOUR BUSINESS? Your brand can help leave the past few years behind. Hone in on what matters most.
When and where
Location
Collingwood Foundry 64 Hurontario Street Collingwood, ON L9Y 2L6 Canada
About this event
HOW CAN YOUR BRAND HELP YOUR BUSINESS? Your brand can help leave the past few years behind.
The past few years have been exhausting! Adjusting and Readjusting. Acting and Reacting. Whether you've had to say goodbye to some parts of your business to keep your doors open or you've seen dramatic growth…it finally looks like we can all hope and plan for tomorrow.
But planning for a business can feel overwhelming. What comes first? What's most important? What resources can give me reliable and relevant information to help me get it done? We want to help achieve all of your hopes and plans for tomorrow.
The Small Business Enterprise Centre – in partnership with Two Sisters Growing Brands and the Collingwood Foundry – are hosting a BrandBuilder Seminar.
In a small relaxed group, this two-hour FREE seminar will help you unearth where you need to focus the most.
DATE: Thursday June 23
TIME: 6:30PM - 8:30PM
LOCATION: The Collingwood Foundry
____
A brand — so much more than a logo
You'll discover that your brand is so much more than your logo or design. It can:
• inspire new ideas
• strengthen all aspects of your existing business
• make every single business decision easier
Did you know?
• 81% of consumers are more likely to buy from you if they know you.
• A consistent presentation of a brand can increase revenue by 33%
• 46% of consumers say they would pay more for brands they trust.
• 77% of consumers buy from brands who share the same values.
Space is limited. REGISTER NOW.
____
About the speakers:
Melanie Auchincloss
Inside the most prominent Global Marketing agencies, Melanie's helped some of the world's largest companies thrive with a clear system that mixes research, analysis, creativity, strategy and tactical execution. Now a local resident for almost six years, she's bringing her experience and tailoring her approach for businesses in our region.
Melissa Auchincloss
Melissa brings over 30 years of commercial photography and video experience to building unforgettable brands. As a member of PPOC (Professional Photographers of Canada), her images have been included in National and Provincial Salons. Melissa fuses creativity with research to ensure that the expression of a brand aligns with the strategy.