About this Event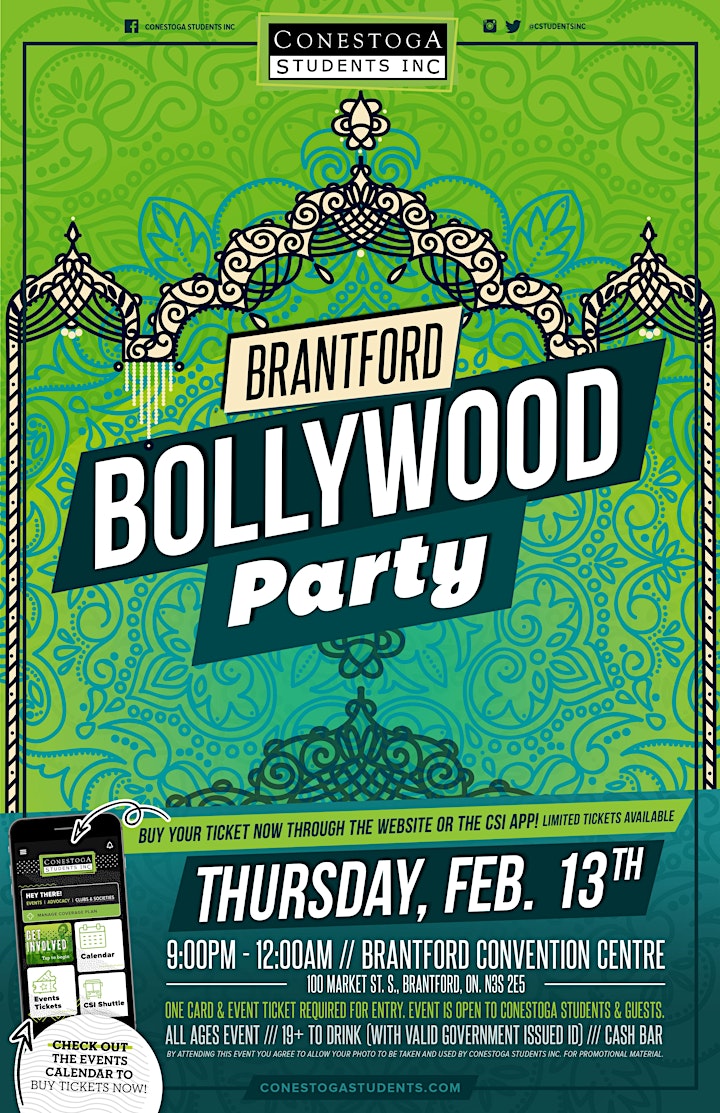 USE YOUR STUDENT NUMBER AS YOUR PROMOTIONAL CODE TO ACCESS A DISCOUNTED TICKET, IF YOU HAVE PAID THE CSI EVENTS FEE!
THIS CODE CAN ONLY BE USED ONCE. PLEASE ENSURE YOUR STUDENT NUMBER IS CORRECT, AS IT WILL BE VERIFIED UPON ENTRY TO THE EVENT.
CSI Events Fee-Paying Students: Free
Non CSI Events Fee-Paying Students and Guests: $5
Tickets on sale for CSI Events Fee-Paying Students on Thursday, Jan. 30, 2020 at 12:00PM. Non CSI Events Fee-Paying Student tickets will go on sale Monday, Feb. 3 at 8:00AM.
Tickets will be on sale until Feb. 13, 2020 or until SOLD OUT.
Students may get 1 ticket for themselves, and 1 for a guest. Tickets include admission into the event and complimentary appetizers.
Please note that this event is 19+. | All persons attending must be over the age of 19, and have official government-issued ID to enter. No pictures or photocopies of ID will be accepted.
No weapons, large bags or purses will be permitted at the Brantford Convention Center. All tickets purchased are non-refundable and non-transferable. | No refunds will be issued for lost or stolen tickets.
Shuttle Service Available
Their will be a shuttle bus running for attendees beginning at 8:45pm. The shuttle will run a continuous loop from 50 Wellington St. to 274 Colborne St. then to the Brantford Convention Centre.
This shuttle will also be available after the Bollywood Party ends to take attendees back to 50 Wellington St. and 274 Colborne St.