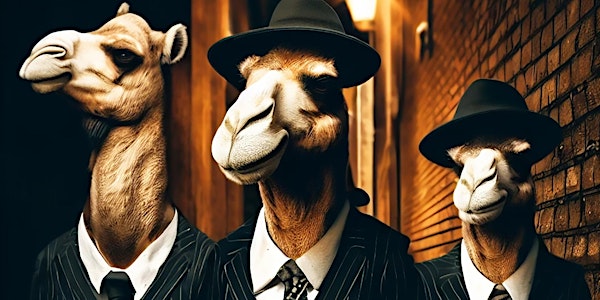 Brass Camel
Ages 19+
Mills Hardware Presents
Brass Camel with Bad Men Association + Daniel Walton and the Dreamland Band — Live at Mills Hardware!
Date and time
Fri, Jun 16, 2023 8:00 PM - 11:00 PM EDT.
Location
Mills Hardware 95 King Street East Hamilton, ON L8N1A9 Canada
Performers
Headliners
More Performers
Bad Men Association
Daniel Walton & The Dreamland Band
About this event
3 hours

Ages 19+

Mobile eTicket
"I'm a big Brass Camel believer right now and the fact that they're from Canada...to me, I mean that's just a bonus. Man, they're good worldwide so I've gotta say that's probably my favourite dude in Canada right now." - Gordie Johnson
Brass Camel is a unique rock group who recently released their debut album, mixed by multiple Juno-winner Ben Kaplan. Made up of five experienced twenty-somethings whose collective accomplishments include performing at New York's Apollo Theatre, jamming with guitar icon Les Paul and hundreds of studio sessions, their sound is unique but one can hear the influence of titans such as Supertramp, Rush, Herbie Hancock and Yes. The group has been on a streak of sold out shows in BC and last year Gordie Johnson of Big Sugar named Brass Camel as his favourite Canadian band. In May/June the band is embarking on their first national tour which runs to Montreal and includes an industry showcase performance at Canadian Music Week in Toronto.
Instagram | Facebook | Spotify | Apple Music
•
Emerging onto the scene in 2020 as a byproduct of government lockdown procedures, the Bad Men Association took advantage of their spare time wisely to forge their initial EP release, BMA. The release saw them make an immediate impact in their local scene, going from house parties to playing festivals in their home town. After a substantial amount of gigging, BMA was back at it again with the release of second EP Lights on Nobody's Home that continued to fuel the flame burning brightly for the band. Their sights are set on continuing to branch out and constantly deliver a stunning live performance unlike any other that will leave you wanting more. Join the association.
Instagram | Facebook | Spotify | Apple Music
•
A love letter to the giants of progressive and psychedelic rock music led by Wooly Mantis guitarist and singer Daniel Walton, The Dreamland Band performs with both precision and spontaneity, creating a truly unique performance of powerful riffs, improvised solos, and immersive psychedelic grooves certain to satisfy and excite any audience.
About the organizer
Sonic Unyon is a Canadian indie record label, festival promoter, venue operator, and community partner in Hamilton, Ontario.