Event Information
Location
The Salvation Army
777 Ospika Boulevard South
Prince George, BC V2M 3R5
Canada
BRAVE is a one-day in event for female identifying young people ages12-18 who are struggling with feelings of loneliness and not belonging.
About this event
Envision a day where the young women, daughters, granddaughters, nieces, and neighbours you love most all had a moment to be told they are strong, their circumstances don't define them, and that they have a voice! Now imagine doing that in a room where these young female identifying persons may have NEVER heard that, or had anyone believe in them… Welcome to BRAVE.
BRAVE 2022 is FULL of inspiration, stories of strength, courage and insight. Hear from Tori Hope Petersen who came out of foster care and embarked on a journey to strength and confidence, including her victory as Mrs. Universe in 2021.
If you, or someone you know have struggled with feelings of loneliness or feeling 'not enough' we are not alone. Brave 2022 features Danielle Strickland and Lisa Barnes as they share personal stories and practical tools to overcome the hard circumstances we are facing. We will offer fun activities, lunch, and lots of swag.
We hope you will register today, space is limited!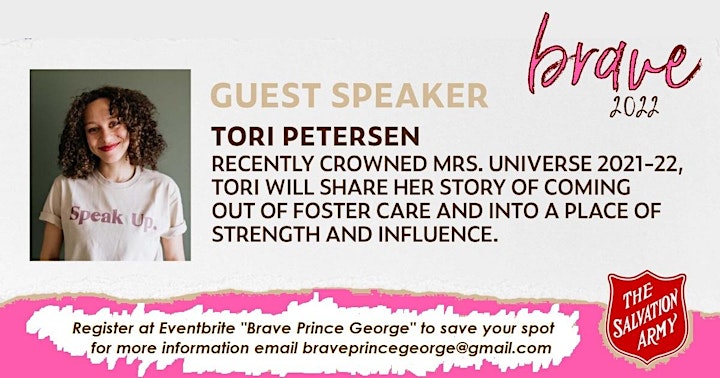 Date and time
Location
The Salvation Army
777 Ospika Boulevard South
Prince George, BC V2M 3R5
Canada