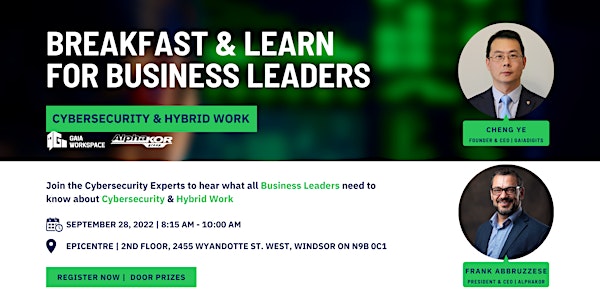 Breakfast & Learn for Business Leaders: Cybersecurity & Hybrid Work
Join us to hear what all Business Leaders need to know about Cybersecurity & Hybrid Work.
When and where
Location
Joyce Entrepreneurship Centre 2455 Wyandotte Street West Located inside EPICentre, 2nd Floor Windsor, ON N9B 0C1 2455 Wyandotte Street West Windsor, ON N9B 0C1 Canada
About this event
The world of work has changed; since the pandemic shook the world in 2020, many organizations shifted to remote and hybrid work. According to a new survey by Mercer Canada, 54 per cent of Canadian employers are adopting a hybrid working arrangement. While this ushered in many benefits, this technological shift also raised security concerns for businesses that did not have time to prepare for this rapid shift. In fact, cyber threats have increased by 81% since the pandemic.
While some Canadian businesses transition back to the office, there are still many that will continue to work remotely or adopt a hybrid approach to work.
The trend to a more distributed workforce continues to rise, bringing newfound benefits for employers and workers. But businesses must be prepared to secure their hybrid workforce to protect their employees and their business from disaster.
People still need to feel connected and productive and they expect technology will help them do that wherever they are, on any device. As a business leader, it is your responsibility to ensure that your hybrid workforce and your business are protected. Join GaiaDigits and AlphaKOR on September 28th to hear what all Business Leaders should know about their cybersecurity strategy for the hybrid world of work. In this event, you will learn:
What drives hybrid work and why it is important
How to best implement a hybrid working model
How to facilitate productivity in the age of hybrid
About GaiaDigits
GaiaDigits is a leading Workspace Management (SPM) and Workforce Management (WFM) software company. We developed cloud-based solutions to help businesses and organizations ensure workspace safety, increase work efficiency, lower operation costs, and improve office utilization rates.
Gaia Workspace features Room & Desk Booking, Employee Screening, Task Management, Visitor Management, and Visualized Dashboard. We are proud to be a fast-growing and multi-national company, with diverse cultures, healthy working environment and balanced work and life.We are committed to bringing more insights and value to you.
About AlphaKOR
AlphaKOR is a leading Managed Service IT Firm based in Windsor-Essex. We offer a full stack of IT, Digital Marketing and Software Development solutions to businesses of all sizes in every industry. For over 27 years, our business technology solutions have worked to accelerate the growth of businesses in Southwestern Ontario and beyond.
The Cyber Security landscape has evolved to pose greater threats to all businesses. Our Managed IT Services protect, detect, address, and respond to any threats against your company infrastructure and data. While you are working hard to manage your business, AlphaKOR is here to keep it secure.
Visit here for more information.