Breakfast with Mary Hofstetter, Allan Kimberly and Irfhan Rawji

Wednesday, May 16, 2012 from 7:30 AM to 9:00 AM (EDT)
Event Details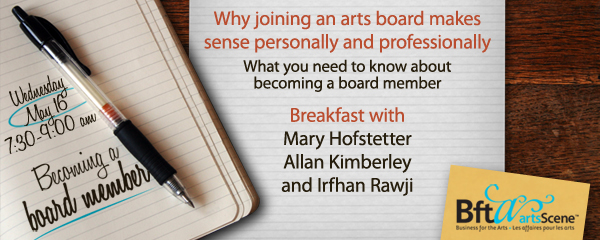 Join Business for the Arts' young professionals committee artsScene Toronto on Wednesday, May 16 for a panel discussion on the benefits of board membership within the arts. Moderated by Tim Deacon, co-chair of artsScene's breakfast series and Maggie Fairs, co-chair of artsScene Toronto, panelists will include:
Mary Hofstetter, former CEO, the Banff Centre; former board member, Business for the Arts
Allan Kimberley, Vice Chairman & Managing Director, Canadian Real Estate Investment Banking, CIBC; Chair, Toronto Symphony Orchestra development committee (former chair); board member, Ontario Science Centre
Irfhan Rawji, Director, Onex; Chair, Canadian Heart and Stroke Foundation board; board member, Institute for Canadian Citizenship
Speaking from personal experience, the panel will discuss how they first became involved on their respective boards and how it has helped them gain valuable skills and insight, helped strengthen the organizations where they volunteered and helped grow stronger in their careers.
 
For anyone considering joining an arts board or taking on a more senior role within their current board, this seminar is a must.
 
Date   Wednesday, May 16, 2012

Time   7:30-9AM

Location Manulife Financial
Syd Jackson Theatre, 200 Bloor Street East
Main Entrance off St. Paul's Square (one block east of Church, north side of Bloor)
Check in at the Rotunda security desk

Tickets  $25 each
 
Panel discussion will begin at 7:45am and will cover the topics below:
What was your journey in becoming a board member?  What or who was the inspiration and how were doors opened for you?
If you were to offer advice to those of us thinking about joining a board, what words of wisdom would you offer as they consider joining?  What kind of questions would you recommend they ask both of themselves and of the organization as they investigate opportunities?
If you were to provide three secrets of what makes an effective board leader, what would they be?  And, what would you say are the absolute no-no's as a board member.
What are your greatest lessons in board leadership governance / interaction with management that you have been able to use in your professional career?


Connect with us:





artsScene Toronto is a volunteer-driven program of Business for the Arts. By bringing together arts, business, innovation, and creative energy, artsScene aims to strengthen culture, community, and comradery and make young professionals an important part of it all. www.artsscenetoronto.com
When & Where
200 Bloor Street East
Toronto, M4W 1E5
Canada

Wednesday, May 16, 2012 from 7:30 AM to 9:00 AM (EDT)
Add to my calendar
Organizer
artsScene, hosted by Business for the Arts, is a creative hub for young business professionals interested in getting more involved in the Arts.