Breakfast with the Premier

Tuesday, February 15, 2011 from 9:30 AM to 11:00 AM (EST)
Event Details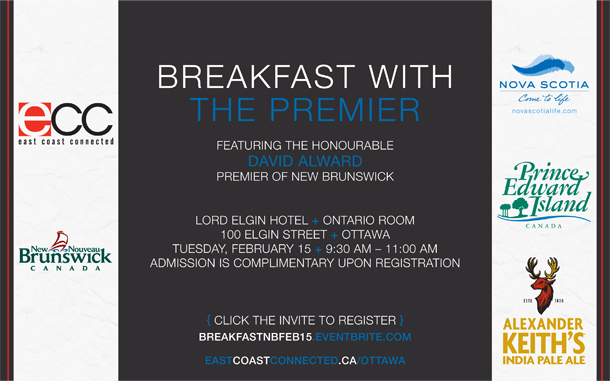 ECC Ottawa Presents Breakfast with The Premier Featuring
the Honourable David Alward, Premier of New Brunswick
ECC and the Government of New Brunswick are proud to present 'Breakfast with The Premier' at Lord Elgin Hotel's Ontario Room, Tuesday February 15 at 9:30 am.

Newly elected New Brunswick Premier David Alward will share how New Brunswick is leading the way by reaching out to citizens and business people to find innovative solutions to its fiscal and economic challenges.

"Rather than following what is going on elsewhere, New Brunswickers are helping this government to set a new course, one that is driven by you."
New Brunswick Premier David Alward.
Event Details              
Date:
 

Tuesday, February 15, 2011

Location:
 

Lord Elgin Hotel
Ontario Room
100 Elgin Street
Ottawa, Ontario

Time:

 

9:00 am – Registration open
9:30 am – Event begins
10:00 am – Premier's Presentation
10:30 – 11:00 am – Networking

Registration:
 
Admission to this event is complimentary and includes a continental breakfast.

Capacity is limited so be sure to confirm your attendance early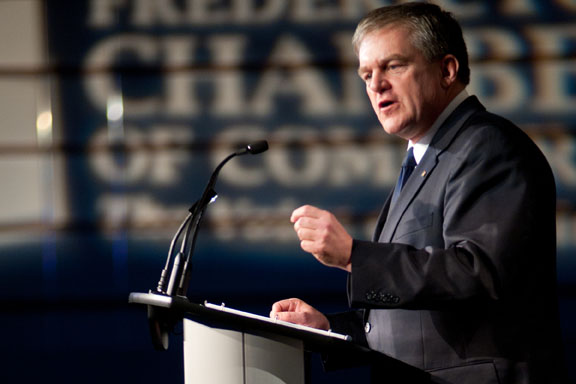 The Honourable David Alward, Premier of New Brunswick

About David Alward
David Nathan Alward (Woodstock) was first elected to the Legislative Assembly of New Brunswick in the June 7, 1999, provincial election as the Progressive Conservative member for the electoral district of Woodstock. He was the chair of the Standing Committee on Crown Corporations. In addition, he was a member of the Select Committee to Review Appointments by the Lieutenant-Governor-in-Council and the Select Committee on Private Passenger Automobile Insurance.

He was re-elected as the member for Woodstock in the June 9, 2003, provincial election and sworn in as Minister of Agriculture, Fisheries and Aquaculture on June 27, 2003.

He was re-elected for a third term in the September 18, 2006, provincial election. He was a member of the Standing Committee on Crown Corporations. He was the critic for areas of interest related to agriculture, fisheries and aquaculture; post-secondary education, training and labour; the Labour and Employment Board, and WorkSafe NB.

On October 18, 2008, he was elected Leader of the Progressive Conservative Party of New Brunswick.

He was re-elected to the 57th Legislature September 27, 2010 and took the oath of office to become the 32nd Premier of New Brunswick on Tuesday, October 12, 2010.

He was born on December 2, 1959, in Beverly, Mass., and is the son of Rev. Ford and Jean Alward. He graduated from Nackawic Senior High School and completed his Bachelor of Arts degree in Psychology at Bryan College, Dayton, Tenn. He has also completed course work toward a Master of Arts degree in Counselling Psychology.

Mr. Alward was employed with the federal government from 1982 until 1996. From 1996 to 1999, he was self-employed as a human resource development and community development consultant. In addition to his consulting work, he and his family operate a small family farm in Riceville, where they raise purebred Hereford cattle and own and operate a small woodlot.

Active in his community, he volunteered as an emergency medical technician and laboratory instructor with the St. John Ambulance and as a firefighter with the Meductic fire department. He served on the board of directors of the Carleton Regional Development Commission and the New Brunswick Hereford Association. He served on the Centennial Elementary School parent advisory committee, the School District 12 stay-in-school committee and the local agricultural employment board. He has also been a volunteer in local recreational activities and student tutoring. He is currently a member of the Woodstock Rotary Club.

Mr. Alward and his wife, Rhonda, have two sons, Jonathan and Benjamin.

When & Where

Lord Elgin Hotel
100 Elgin Street
Ottawa, Ontario K1P 5K8
Canada

Tuesday, February 15, 2011 from 9:30 AM to 11:00 AM (EST)
Add to my calendar
Organizer
East Coast Connected (ECC) is a non-profit organization that aims to strengthen the bonds amongst Atlantic Canadian expats. Since 2007, ECC's mandate is to leverage Atlantic Canadian networks that already exist, fostering a dialogue to create an exchange of knowledge, capital, and creativity that will promote economic growth across the Atlantic region.