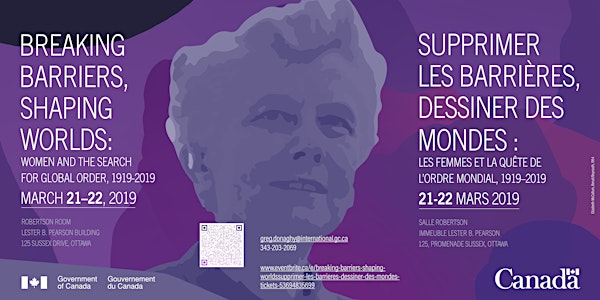 Breaking Barriers, Shaping Worlds/Supprimer les barrières, dessiner des mon...
Event Information
Location
Global Affairs Canada/Affairs mondiales Canada
125 Sussex Drive/125 promenade Sussex
Ottawa, ON K1A 0G2
Canada
Description
The Historical Section is pleased to sponsor a two-day conference on the history of women and Canada's international history on the theme, Breaking Barriers, Shaping Worlds: Women and the Search for Global Order, 1919-2019. Linking past and present, this symposium will explore how Canadian women have influenced Canada's place in the world during the 20th century and beyond. Speakers will highlight the diverse ways in which Canadian women have shaped international relations, peacebuilding, security, humanitarian aid and development, as well as offering international historical perspectives on empowered women in diplomacy.
For more details, please see our program here.
There is no fee, but as space is limited, we ask participants to register in advance. Government-issued photo identification will be required for entry to the Lester B. Pearson building. Also, please note that due to renovations, access to 125 Sussex Drive is temporarily confined to the King Edward Avenue entrance at the rear of the building.
Parking at the venue is extremely limited. Attendees are encouraged to use public transportation or park in the nearby Byward Market. For information on public transportation, please visit the OC Transpo website. For information on parking in the nearby Byward Market, visit Parkopedia. A map to the Market area is available here.
For more information, please email Stacey Barker or Greg Donaghy

---
La Section des affaires historiques (PORH) est heureuse de parrainer une conférence de deux jours sur l'histoire des femmes et l'histoire internationale du Canada, sur le thème « Supprimer les barrières, dessiner des mondes : les femmes et la quête de l'ordre mondial, 1919-2019 ». Reliant passé et présent, ce symposium explorera l'influence des femmes canadiennes sur la place du Canada dans le monde au cours du XXe siècle et au-delà. Les conférenciers souligneront les diverses façons dont les Canadiennes ont façonné les relations internationales, la consolidation de la paix, la sécurité, l'aide humanitaire et le développement, et présenteront dans un contexte historique international divers points de vue sur le renforcement du pouvoir des femmes dans la diplomatie.
Pour plus de détails, veuillez consulter le programme ici.
Il n'y a aucuns frais, mais les places étant limitées, les participants doivent s'inscrire à l'avance. Une pièce d'identité avec photo émise par le gouvernement sera nécessaire pour entrer dans l'édifice Lester B. Pearson. Veuillez également noter qu'en raison de travaux de rénovation, l'accès au 125, promenade Sussex est temporairement limité à l'entrée de l'avenue King Edward, à l'arrière du bâtiment .
Le stationnement sur les lieux est très limité. On encourage les participants à utiliser le transport en commun ou à se stationner au marché By situé à proximité. Pour plus d'information sur les transports en commun, veuillez consulter le site Web d'OC Transpo. Voici le lien pour le stationnement dans le marché By situé à proximité ainsi qu'une carte du quartier du marché.
Pour obtenir de plus amples renseignements, veuillez envoyer un courriel à Stacey Barker ou Greg Donaghy.

Date and time
Location
Global Affairs Canada/Affairs mondiales Canada
125 Sussex Drive/125 promenade Sussex
Ottawa, ON K1A 0G2
Canada