Honest and raw conversations about equity and diversity in basketball to make the culture of basketball more inclusive as a community.
About this event
This is the 2nd event of a 5 part series facilitating honest, raw, authentic conversations about equity and diversity in basketball and how to make culture of basketball more inclusive involving various stakeholders in the community including players, coaches, and officials.
Sessions are 90 minutes: first 20 minutes is dedicated to discussing education related to equity, diversity, and inclusion (EDI) concepts in sports followed with a 70 minute discussion where we hear lived experiences from a panel of guest speakers involved in basketball within various roles including players, coaches, and officials.
Dr. Ardavan Eizadirad (@DrEizadirad) is founder and director of EDIcation Consulting offering equity, diversity, and inclusion training to organizations. He is currently an Assistant Professor in the Faculty of Education at Wilfrid Laurier University, an instructor in the School of Early Childhood Studies at Ryerson University, and in the Faculty of Social Work, Master of Teaching, and Bachelor of Education program at University of Toronto. He is an educator with the Toronto District School, author of Decolonizing Educational Assessment: Ontario Elementary Students and the EQAO, and co-editor of Equity as Praxis in Early Childhood Education and Care and International Handbook of Anti-Discriminatory Education (forthcoming 2022). Eizadirad has been officiating at various levels for 15 years including elementary, high school, college, university, OSBA championships, NBL, and international basketball with Wheelchair Basketball Canada. He is currently an active international referee for wheelchair basketball representing Canada, most recently having officiated in Lima, Peru in December 2018 at the South America Championships.Dr. Eizadirad is also on the Board of Directors for Amadeusz which provides educational programs and services for incarcerated youth and young adults.
Nadine Crowley is a social worker who has been in private practice for the past twenty years. She works as a family mediator, custody access investigator, and a counsellor specializing in providing services to families who are going through the restructuring process of separation and divorce. For over 40 years, Nadine have been involved in the sport of basketball as an athlete, coach, official, and now instructor/supervisor and administrator. Since retiring from international officiating in 2012, she has been working diligently in her local community, provincially, nationally and internationally to create and implement training programs to develop officials of all ages. As a member of the Canadian Basketball Officials Commission and the FIBA Licensing Advisory Group, she is involved in the early stages of community building and aligning Canadian officials with the rest of the basketball world.
Claude Nembhard As Executive Director of the OBA, Claude Nembhard oversees the association's basketball and business development initiatives and responsible for continuing to grow the popularity of the OBA throughout Ontario. In addition, Claude is the Chair of the OBA's Diversity, Equity, and Inclusion Committee. His role is instrumental in establishing a value proposition for the OBA to increase access to the game for racialized youth in under-resourced and marginalized communities. He also works to establish relationships with stakeholders and expand the reach of the OBA across the province.
Prior to joining the OBA, Claude as a seasoned Level II basketball coach with over 30 years of experience, has held the positions of both Head Coach and Assistant Coach for the Ontario Provincial Basketball Team, Assistant Coach at the formerly named Vaughan Secondary, and coached in the Vaughan Panther Rep Program (2005-2015) where he was awarded the Best Team in the Province award with a consistent winning performance for ten years in a row (8 Gold, 1 Silver, and 1 Bronze). In addition to his extensive coaching and volunteer experience, Claude was the founding partner of True Basketball Fundamentals (TBF), an organization that developed and implemented several skills development programs for youth of all ages (2004 - 2015).
Claude holds a BA from York University in Economics/Accounting, is married to Mary Nembhard and has two sons, Andrew and Ryan who are both Canadian carded athletes recognized by Basketball Canada. Andrew is currently a junior at The University of Gonzaga and Ryan will be a freshman in 2021 at the University of Creighton.
Tamara Tatham is the University of Toronto Varsity Blues head women's basketball coach. In addition to her coaching accomplishments, she also made history in 2018/19 by being the first Canadian woman to join the coaching staff of a professional men's team, as she joined the Toronto Raptors G-League affiliate team, Raptors 905 as a jr. coach. The two-time Olympian played with the Canadian senior women's national basketball team from 2007-16. Her national career encompasses two Olympic Games, attending both the 2012 London and 2016 Rio Olympics, two Pan American Games, six FIBA Americas championships, and two FIBA world championships.
Justin Bobb is the Director of Equity, Diversity and Inclusion for Maple Leaf Sports & Entertainment (MLSE) with a focus on the development and execution of team strategies for Toronto Maple Leafs, Toronto FC and Toronto Argos. In addition to his role at MLSE, Justin is the Head Coach for Women's Basketball at Centennial College. Justin has an extensive background in social impact through community and sport development, as well as the social housing sector, all while using sport as a tool of engagement to support youth facing barriers. Justin is a graduate of Ryerson University with a B.A. in Sociology.
What is the concept behind the series "Breaking Barriers through Brave Conversations" ?
Together we will create brave space.
Because there is no such thing as a "safe space" —
We exist in the real world.
We all carry scars and we have all caused wounds.
In this space
We seek to turn down the volume of the outside world,
We amplify voices that fight to be heard elsewhere,
We call each other to more truth and love.
We have the right to start somewhere and continue to grow.
We have the responsibility to examine what we think we know.
We will not be perfect.
This space will not be perfect.
It will not always be what we wish it to be.
But
It will be our brave space together,
and
We will work on it side by side.
by Micky ScottBey Jones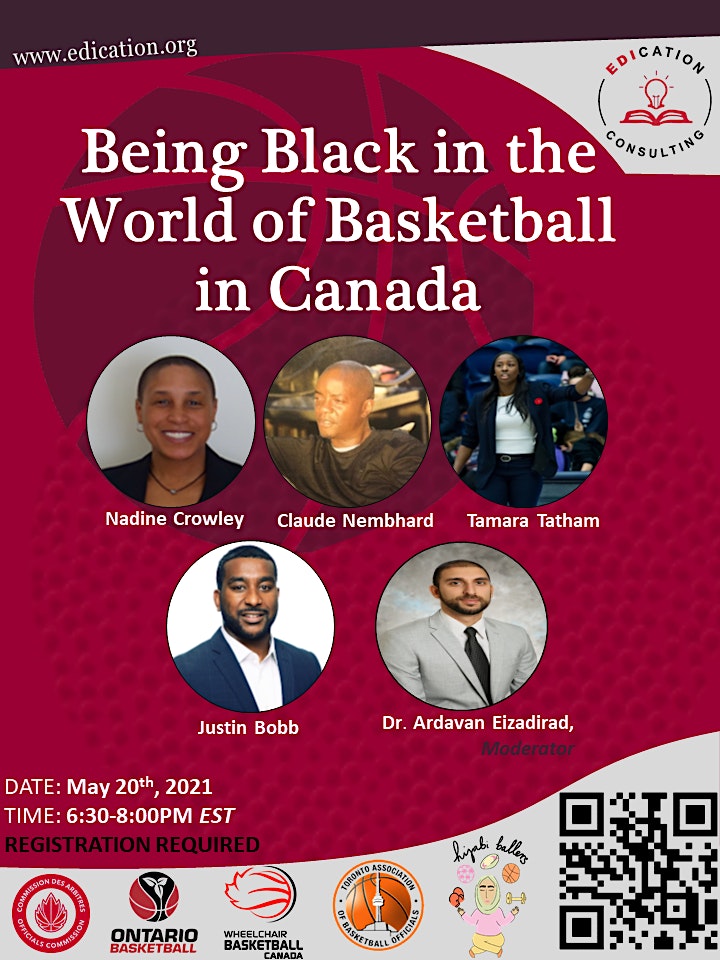 Organizer of Breaking Barriers through Brave Conversations- Being Black in Basketball