Honest and raw conversations about equity and diversity in basketball to make the culture of basketball more inclusive as a community.
About this event
This is the 3rd event of a 5 part series facilitating honest, raw, authentic conversations about equity and diversity in basketball and how to make culture of basketball more inclusive involving various stakeholders in the community including players, coaches, and officials.
Sessions are 90 minutes: first 20 minutes is dedicated to discussing education related to equity, diversity, and inclusion (EDI) concepts in sports followed with a 70 minute discussion where we hear lived experiences from a panel of guest speakers involved in basketball within various roles including players, coaches, and officials.
Dr. Ardavan Eizadirad (@DrEizadirad) is founder and director of EDIcation Consulting offering equity, diversity, and inclusion training to organizations. He is currently an Assistant Professor in the Faculty of Education at Wilfrid Laurier University, an instructor in the School of Early Childhood Studies at Ryerson University, and in the Faculty of Social Work, Master of Teaching, and Bachelor of Education program at University of Toronto. He is an educator with the Toronto District School, author of Decolonizing Educational Assessment: Ontario Elementary Students and the EQAO, and co-editor of Equity as Praxis in Early Childhood Education and Care and International Handbook of Anti-Discriminatory Education (forthcoming 2022). Eizadirad has been officiating at various levels for 15 years including elementary, high school, college, university, OSBA championships, NBL, and international basketball with Wheelchair Basketball Canada. He is currently an active international referee for wheelchair basketball representing Canada, most recently having officiated in Lima, Peru in December 2018 at the South America Championships.Dr. Eizadirad is also on the Board of Directors for Amadeusz which provides educational programs and services for incarcerated youth and young adults.
Christa Eniojukan (@ceniojukan) was announced as the Ridgebacks first women's basketball head coach during the summer of 2018, ahead of the programs first year of competition in 2019-2020. Eniojukan holds a Bachelor of Education from York University and Bachelor of Arts from Wilfrid Laurier University. In addition to her coaching, she has been a middle-school teacher with the Toronto District School Board since 2005. The Ajax resident brings with her a strong provincial pedigree having served as Ontario Basketball's U17 Team Ontario head coach from 2014 to 2017, capturing national gold in 2015 and 2016 and silver in 2014 and 2017. An NCCP Level 3 certified coach, Eniojukan most recently served as head coach with the ASAD Durham Elite of the Ontario Scholastic Basketball Association. In just two full seasons, the Durham Elite program graduated six players to NCAA Division 1 and two players to U SPORTS programs. Eniojukan also founded Active Scholars in January 2018 which operates summer camps and other programming utilizing a unique combination of sports development and STEM education. Learn more at: https://goridgebacks.com/staff-directory/christa-eniojukan/165
Natalie Achonwa (@NatAchon) is a Canadian professional basketball player for the Minnesota Lynx of the Women's National Basketball Association (WNBA). She made history in 2009 when she became the youngest player ever selected to the Canadian Senior National Team at age 16. She had made her international debut at the 2008 FIBA U-18 Americas Championships, again the youngest player selected at age 15, and helped Canada to win the silver medal. The University of Notre Dame alumna was a four-year Monogram winner and named to both the All-American and All-ACC team during her collegiate career. In 2019, Achonwa was the 6th women's basketball player inducted into the Notre Dame Ring of Honor for helping leading her team to four consecutive Final Fours. This summer is Achonwa's 7th season in the WNBA, but first season with the Minnesota Lynx, after being drafted 9th overall in 2014 by the Indiana Fever. Her impact in the league and her community also extends off-the-court as she was awarded the 2019 Season-Long Community Assist Award and the 2020 Dawn Staley Community Leadership Award. In the WNBA "off-season", Achonwa has played overseas in Italy, France, China, and South Korea, and continues to play for the Canadian Senior National Team. The Tokyo Olympics will be Achonwa's third Olympics after also competing in the 2012 London and 2016 Rio Olympics.
Learn more at: https://www.wnba.com/player/natalie-achonwa/
Noor Bazzi (@NoorBazzi14) is the first St. Clair College player to ever wear a hijab on the hardcourt, and has been a key contributor for the Saints in her first two seasons. Entering her third season with the St. Clair Saints women's basketball team, whenever OCAA sports return, Bazzi has never felt more comfortable, and has enjoyed every moment of her athletic and academic life at St. Clair College. By this point in her life, having played basketball for 12 years, and having worn her hijab for a decade, it's nothing new to Bazzi. But that doesn't mean putting her faith on full display every time she steps on the court isn't inspiring other new athletes. She's inspiring, and undoubtedly paving the way as a role model for other female Muslim athletes.
Learn more at: http://www.cksn.ca/2020/09/baazi-breaking-barriers-for-other-muslim-athletes/
Tashawna Higgins is a certified personal trainer and nutritional coach with over 10 years of experience within the industry. She used basketball as a tool to achieve many highlights of her life including earning a basketball scholarship and graduating from a Division 1 program at Norfolk State University with a Bachelor of Arts in Sociology (2009), playing professionally in Iceland, France, Spain, and representing Jamaica's Women's National Basketball team in 2018. Tashawna is an active member within her community both as a basketball coach and a member with the Toronto Association of Basketball Officials. She continue to mentor youth and does guest speaking events at community centres and schools. With all her experiences and accomplishments, Tashawna's plan is to continue to share her journey with future young minds who have aspirations to achieving to their full potential.
Erica Gavel (@EricaGavel) is a Paralympian wheelchair basketball athlete and a PhD Candidate at Ontario Tech University in the Faculty of Science studying "environmental physiology and Paralympic performance". She is from Prince Albert, Saskatchewan. Erica completed a Master of Science at the University of Toronto and was awarded the "Own the Podium – Dr. Gord Sleivert Young Investigator Award" for her research. Prior to Erica's wheelchair basketball career, she was a member of the University of Saskatchewan Women's Basketball Team where she was a Canada West Champion, and USport bronze and silver medalist. Erica is a member of the Canadian Paralympic Committee's Athlete Council, the International Wheelchair Basketball Federation Athletes' Steering Commission, the International Wheelchair Basketball Federation America's Athlete Representative, and the International Paralympic Committee Sport Science and Research Working Group.
Learn more at: https://www.wheelchairbasketball.ca/players/erica-gavel/
What is the concept behind the series "Breaking Barriers through Brave Conversations" ?
Together we will create brave space.
Because there is no such thing as a "safe space" —
We exist in the real world.
We all carry scars and we have all caused wounds.
In this space
We seek to turn down the volume of the outside world,
We amplify voices that fight to be heard elsewhere,
We call each other to more truth and love.
We have the right to start somewhere and continue to grow.
We have the responsibility to examine what we think we know.
We will not be perfect.
This space will not be perfect.
It will not always be what we wish it to be.
But
It will be our brave space together,
and
We will work on it side by side.
by Micky ScottBey Jones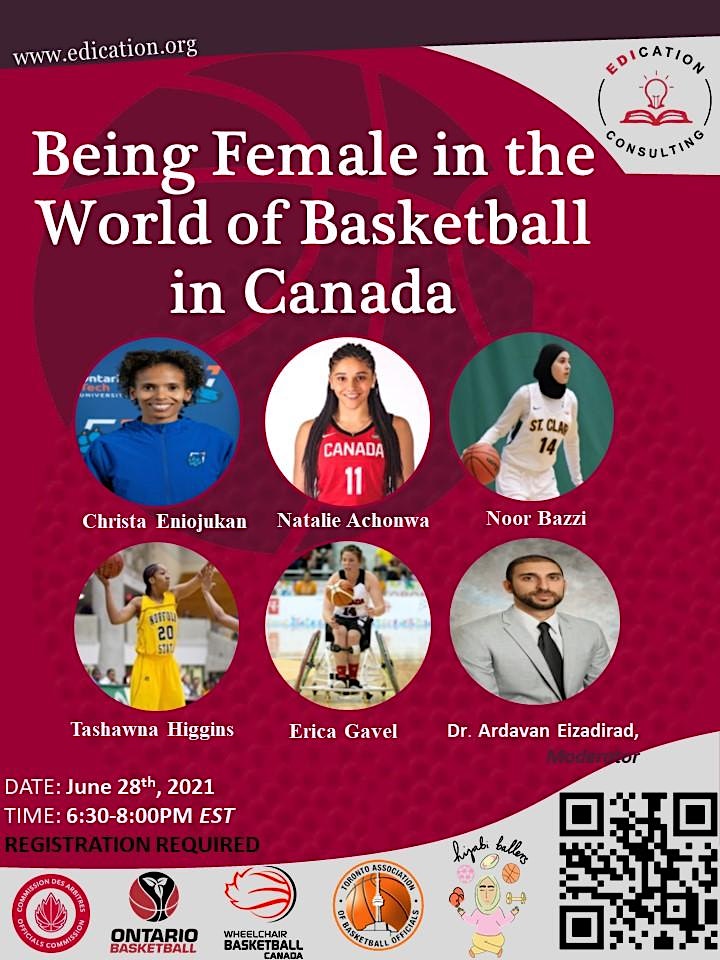 Organizer of Breaking Barriers through Brave Conversations- Being Female in Basketball