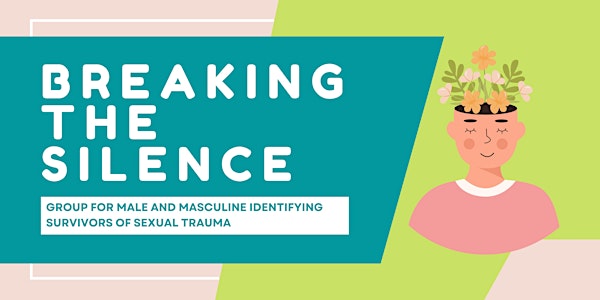 Breaking the Silence - Group for Male & Masc Survivors of Sexual Violence
An 8-week group for male and masculine identifying survivors of sexual trauma.
About this event
This confidential and non-judgmental group is for male and masculine identifying survivors 18+ who have experienced any form of sexual trauma (e.g. childhood sexual abuse, recent sexual assault, any incident of sexual activity without your consent, sex trafficking, etc.).
This group will lay the basic foundation for trauma recovery work to support understanding the impact of trauma, coping with triggers, flashbacks and difficult emotions, improving relationships, accepting self and making meaning of your past.
The group will run on Tuesdays at 7:30 - 9PM from January 24th - March 14th.
PLEASE NOTE: This group is open to folks across the Greater Toronto Area, however, priority will be given to those living in York Region. Individuals from outside York Region may be placed on a waitlist.
**BY REGISTERING FOR THIS GROUP, YOU CONSENT TO HAVING YOUR CONTACT INFORMATION SHARED WITH THE FACILITATORS IN ORDER FOR THEM TO CONTACT YOU TO COMPLETE AN INTAKE FOR THE GROUP**
Co-facilitated by: Todd Elliott, MSW, RSW & Megan MacLean, MSW Candidate