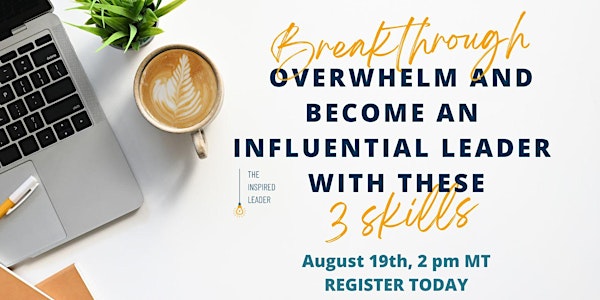 Breakthrough Overwhelm and Become an Influential Leader w These 3 Skills
Join Ally Stone founder of The Inspired Leader
About this event
Are there times when you feel like you're spinning your tires and your work outweighs your effort?
Like you're stuck maintaining a career with a lack of consistency and balance?
If so, you're not alone. Many leaders are challenged with the same issue every day.
In this 60-minute complimentary Masterclass, Ally Stone, founder of The Inspired Leader, will take you on a journey of discovery into 3 leadership skills that will help you move through overwhelm when it shows up. Together we will explore:
Why overwhelm is so debilitaing
What to do when we can't seem to find a way out
How to harness your leadership capacity to create the impact you desire
You will leave feeling excited and motivated to move from frustration and lack of clarity to showing up as the inspiring leader you are meant to be, so you can create the impact you dream of.

Through The Inspired Leader, Ally empowers professional females struggling with overwhelm and burnout to harness the skills to thrive in their careers and get back to doing the work they love to make the impact they've always dreamt of.
Ally Stone is also a partner in a multi-unit restaurant franchise, and for the past 15 years, she was the Director of Culture and Leadership Development for the organization. In her tenure, she created multiple successful models in leadership development that are highly sought after today; those programs and experiences are core to what she facilitates with The Inspired Leader now.