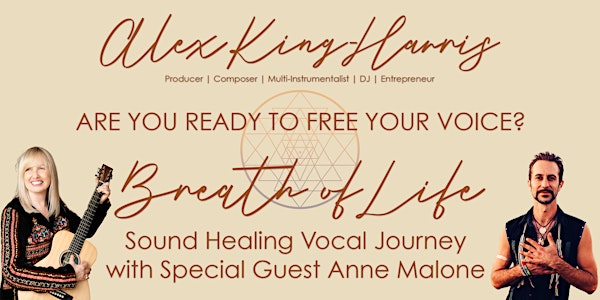 Breath of Life Online Vocal Journey w/ Alex King-Harris feat. Anne Malone
One of the most powerful Zoom experiences you'll ever have. The intimacy, privacy and sonic clarity are truly groundbreaking.
Refund Policy
Refunds up to 1 day before event
Eventbrite's fee is nonrefundable.
About this event
HOW TO PREPARE:
Please choose a quiet space to be in. We recommend headphones or high quality speakers.
Also please consider having a yoga mat, blanket & cushion for SoundBath Savasana!!!
Water / Tea
We also recommend that you "Turn On Original Sound" on Zoom
Join us on Zoom for an intimate broadcast from Colet House, London. It's not your average online experience. We recommend high quality headphones or speakers, as the audio is broadcast in a way that will make it feel like we're sitting next to you.
The Zoom experience allows you to enjoy the freedom and privacy of singing in the comfort of your home. You will experience a private setting where no one else can hear you, yet you will feel connected to the rest of the Zoom participants and those who are joining us at Colet House.
Alex King-Harris (aka Rara Avis), is an accomplished music composer, multi-instrumentalist, producer, DJ, sound healing instructor, and vocal coach with a career that has spanned the globe over the past 25 years. He is also CEO and co-founder of YogiTunes.com, a streaming music service for the healing arts.
By working together, you will learn how to deepen the embodied beauty of your voice as a finely tuned, powerful instrument of life itself.
As we transition from the vocal journey we will also be deeply blessed by the sonic medicine of sound healer Anne Malone.
Anne!s pioneering Sacred Sound Offerings have grown over the years, and she now partners with Yogacampus, Mind Body Spirit, Ministry of Sound and numerous Retreat Centres and Corporate Companies sharing the magic of Sound Healing, Mantra & Sound Training.
Can't Join Us on the 17th?
Class will be recorded and sold separately at the same cost. 
Simply register for the Zoom event and we will send out the recorded version to everyone after the event is over.
Stay in touch:
Alex: www.raraavismusic.com
Anne: www.oasisofsound.com