Event Information
Refund Policy
Contact the organizer to request a refund.
Eventbrite's fee is nonrefundable.
Breathwork for Stress and Anxiety
About this Event
BREATHWORK FOR STRESS + ANXIETY
What a year we have been having! We've come so far! We are on the last push for 2020. If you are like others, you may have experienced, or are still experiencing a lot of stress and anxiety over this year, a combination of what has happened and the uncertainty of what is to come. As we move faster and faster towards 2021, we have an opportunity to reflect back on the year, and reset for the new year. We have a chance to regroup. A chance to consciously think about how we want to spend our time for the remaining part of 2020. And this means letting go of some of the sh%&*&#$%!! that has caused us so much angst and stress.
This session will be about taking time to reflect on what has happened, to re-group from the busy start to fall and to look ahead on what we want. Through meditation, journalling, breathwork and connection with other like-minded people, we will take this opportunity to reset, renew and rejuvenate.
In this session you will:
Learn more about activating the different sides of your nervous system
Learn more about how to connect with your body and where you might hold stress and anxiety within it
Learn different tactics to cope with the stress and anxiety you hold in your body
Reflect on some of the biggest stressors in your life
Reflect on how you can move forward by letting go certain aspects of these stress and anxieties
Feel calmer, more relaxed and restored
Increase clarity and focus
WHAT YOU CAN EXPECT:
We will start with a guided meditation focused on grounding you and bringing awareness to the present moment (away from the past and future), a self-inquiry journaling exercise around the major stresses and anxieties in your life, movement, and a guided breathwork journey to help you release and heal.
Come with an open mind and an open heart. While every breathwork experience is unique, you will generally feel empowered, relaxed and rejuvenated. Breathwork has the amazing capability of knowing exactly what your body needs in that moment!
Whether you are new to breathwork or have done it many times before, we will be creating a safe and supported space for you to have this experience. We will be going over how the breathwork works, what you can expect while doing the breathwork and go over any questions you might have before we begin.
NOTE: The main focus of these sessions will be about releasing stress and anxiety but each session will carry it's own theme as well so that all the dates will be slightly different should you wish to do more than one event.
BENEFITS OF BREATHWORK:
This transformational breathing meditation, which is an active breathing meditation, allows you to connect with your breath on a deeper level. In a healing breathwork you may connect deeply with your mind, body and soul for the purposes of a self healing journey that starts all with the power of your own breath. It is a 3 part breathing pattern that can enable you to:
Clear stuck energy (emotional, physical, mental and spiritual)
Start working through blockages around pain and trauma
Calm your nervous system by reducing stress and anxiety
Improve clarity and focus
Release toxins and boost immunity
Start letting go of what you may be holding on to, creating space for personal transformation and growth.
Leave feeling calm, relaxed and restored
You will do the active breathing meditation and then move into a normal breathing pattern for the integration. The breath is such a powerful tool, and when you can consciously connect with it, you can learn how you can use your breath regularly to support your nervous system and begin your own healing journey.
WHO IS THIS SESSION FOR:
Open to anyone and everyone
You are looking to connect with your breath as a way to calm your nervous system
You are looking for a reset after a busy start to fall
You are looking to ground yourself and get more centered
You are looking to reduce stress and anxiety
You are looking to learn more about what stress and anxiety feels like in your body
You are looking to increase clarity and focus
You are looking to try something new to help you reduce stress and anxiety
If you've tried breathwork before, great! Each experience is unique and if you've never tried it and are curious, this is the perfect time to do it. If you are new to it and want to learn more we are happy to set up a free 15 minute call to go over any questions in advance. You can email us at shannon@thecollectivealchemy.com
HOW TO GET SET UP AT HOME:
We will be doing the sessions online through Zoom. You will receive a link once you register. You will want to create a comfortable space in your own home. I recommend something that is cozy and quiet, away from distractions. Some suggestions include scents (from a diffuser or candles), crystals (if you are into that type of thing), sage, palo santo, etc. Whatever you enjoy to make you feel relaxed, calm and safe.
It is recommended to only eat a light meal (and no alcohol) before the session. Wear comfortable clothing.
You will be laying down so a yoga mat is recommended. Wear loose comfortable clothing, have your blanket, journal and pen close by.
WHAT PEOPLE ARE SAYING ABOUT BREATHWORK WITH SHANNON:
"Shannon is amazing and her sessions are so comfortable . I was blown away at the experience the first time in Jan 2020 and have done another session since then . Super healing." - Meghan
"Shannon's virtual breathwork session was absolutely incredible. It was my first time ever doing breathwork and she was so welcoming and created the safest container possible. Immediately I felt safe, calm and at peace to surrender into the session wherever it was going to lead me knowing I was in good hands with her guidance. She kept checking in to make sure I was feeling comfortable throughout and her guided breathwork was something I'll never forget. One of the greatest emotional releases of my life. Her incorporation of meditation and journaling to set the stage for the breathwork was fabulous also. I am now obsessed with breathwork and will be taking her classes regularly and recommending them to everyone!" - Jamie
"Shannon is very knowledgeable and inspirational. She does an amazing job at connecting with everyone and making them feel comfortable. I did breathwork for the first time and it felt amazing and enlightening. I also felt way more relaxed after as well as connected with my body. I will and already have recommended her work to friends and family. I will for sure be a customer of Shannon moving forward." - Svend
"Shannon's gentle and easy approach to breathwork makes it accessible to anyone. She made me feel relaxed and at ease throughout the entire process despite how nervous I was. Her passion and knowledge shines through every session. I leave feeling relaxed, connected, clear and empowered - she's truly magical!" - Meaghan
"Shannon's guidance through teaching breathwork is soothing and relaxing even for your first time. She makes you feel at ease, loved and safe through the whole process and this is why I love doing sessions with her. " - Dominique
ABOUT THE COLLECTIVE ALCHEMY:
Shannon Frame - Founder of The Collective Alchemy - is a breathwork facilitator in Whistler BC. She will be leading you through the session. She initially fell in love with breathwork as a way to calm the nervous system and relieve anxiety and stress, and as a way to connect deeply with her soul. However, it is the transformative nature of breathwork combined with the unexpected, that enabled it to become a huge part of her life and is why she loves sharing it so much with others. As someone who loves to connect people, her goal is to build a community through her breathwork sessions where others can experience this same deep freeing sensation, release what might be holding them back and open all possibilities to achieve the life they want to live. She truly believes in the magic of breathwork as a way to shed layers of trauma, pain, hurt etc in order to be the best version of yourself. Shannon is also a money coach focused on helping others change their mindset around money and release trauma around money. She is also the founder of UNLEASH Whistler - an event raised at helping people declutter their physical and mental space in order to get laser-focused and live the life they desire. You can find her @thecollectivealchemy or on Facebook.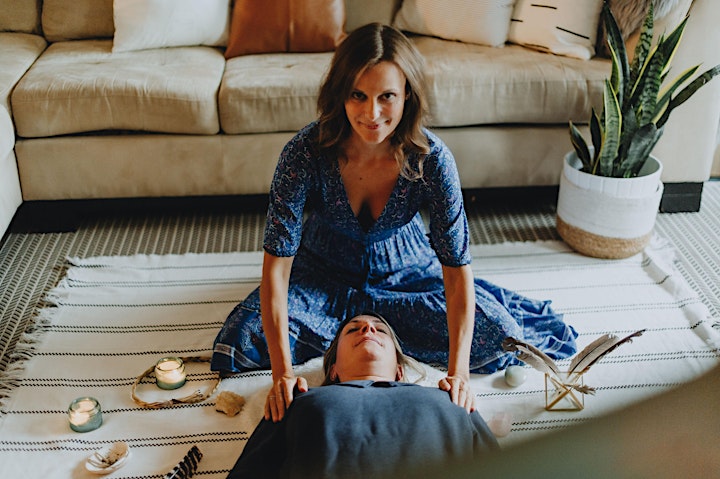 Date and Time
Location
Refund Policy
Contact the organizer to request a refund.
Eventbrite's fee is nonrefundable.