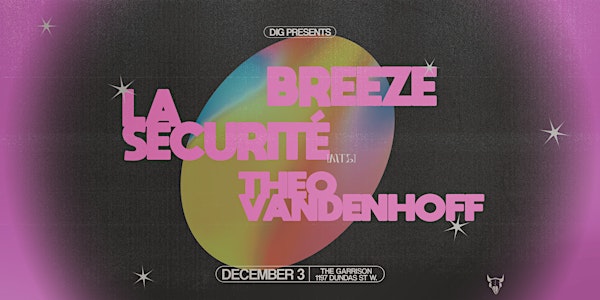 Breeze · La Sécurité · Theo Vandenhoff @ The Garrison
DIG presents: Breeze · La Sécurité · Theo Vandenhoff - Dec 3, 2022 at The Garrison
When and where
Location
The Garrison 1197 Dundas Street West Toronto, ON M6J 1X3 Canada
Refund Policy
Contact the organizer to request a refund.
Eventbrite's fee is nonrefundable.
About this event
DIG presents ☾
Breeze
https://handdrawndracula.bandcamp.com/album/only-up
Written, recorded and mixed in 8 days, Only Up is the second Breeze album by producer and artist Josh Korody (NAILBITER, BELIEFS). Enlisting a whirlwind of performances from Tess Parks, Cadence Weapon and an array of the Toronto music scene, including members of Orville Peck, Tallies, Vallens, Zoon, Sauna, Fake Palms, Rapport, Praises, Civic TV, Moon King, Blonde Elvis, For Jane, Ducks Ltd, TOPS and Broken Social Scene, Only Up sees Korody digging through and channelling three decades of anthemic British bands. From the angular guitars of late 70's post-punk (Gang Of Four, Wire), to the lush gloom of 80's electro-pop (Tears for Fears, OMD), with the dance floor psychedelia of the Manchester sound (Primal Scream, Happy Mondays), and through the late '90s and early 2000s post-punk / new wave revivalists, Only Up celebrates it's sound cathartically.
"The one thing we Canadian artists struggle with the most is identity. Many of us are so heavily influenced by music from the UK, it's ingrained in us. I went into the studio without any specific intention. What I came out with was a mashup of the music that I've grown up with and loved, and still love."
When originally asked to make this album for indie label Hand Drawn Dracula, Korody and his long time friend and music collaborator Kyle Connolly (Orville Peck, The Seams, Wish) quickly threw down ideas in a session, however with Connolly embarking on a world tour, and with Korody's demanding schedule at his Candle Recording Studio, the project sat unattended. But by the time of the album's delivery deadline, Korody not only orchestrated a creative ensemble of friends and collaborators, he wrote, recorded and mixed the entirety of the album in two weeks without a single regret or compromise.
"It was the best way I could have done it. A strict deadline to make decisions, move on and focus on things that matter the most. I was writing, recording, arranging and mixing at the same time, all while people were sending overdub ideas. Every decision was made in that headspace. The ease of technology to endlessly tweak with, it sometimes can actually be a problem for artists who end up destroying their records until there is no soul in it, no happy accidents and it's completely sterile. You can have a well produced record without going down that dark rabbit hole."
La Sécurité (Montreal)
https://lasecurite.bandcamp.com/album/try-again-suspens
La Sécurité (Montréal, QC) is an upbeat art punk outfit featuring members of visionary acts such as Choses Sauvages, Laurence-Anne, Jesuslesfilles, Silver Dapple, DATES and Pressure Pin. Their music is equal parts: jumpy beats, efficient minimal hooks and scratchy melodic spouts; ran through a ubiquitous insomniac filter, the result of excessive exposure to La Grande Métropole's neon lights.
After years of writing catchy tunes for the pleasure of beautiful weirdos, all the while strutting their style on tour with their many different projects, this proverbial supergroup is now summoning the ghosts of late 70s era New York City, a time when the likes of E.S.G., Bush Tetras and Suicide would destroy standardized musical formulas in underground venues.
Though their songs are meant to be blasted onto dancefloors, their lyrics are somewhat like comfy furniture basking into a metaphorically-lit backroom, where words can go chill for a few minutes, perhaps press start and play a level or two.With their first ever studio recording, La Sécurité paint sonic graffitis of their own, evoking a polymorphic reality, through themes such as restlessness or video games.
Recorded and mixed alongside Samuel Gemme at Gamma Recording Studio (Corridor, Anemone, Population II), Suspens / Try Again dropped on May 17th, 2022 via Mothland, showcasing a manic, yet curiously laid-back strand of post-punk that should please fans of Devo, E.S.G., Gang of Four and Le Tigre.
w/ Theo Vandenhoff
https://theovandenhoff.bandcamp.com/track/alles-ist-besser
This project has been made possible in part by the Government of Canada.
About DIG:
DIG is a multi-faceted creative entity specializing in curating and producing events that are unique, inclusive, and memorable.
IG: @dig.universe
FB: @dig.universe.fb