Description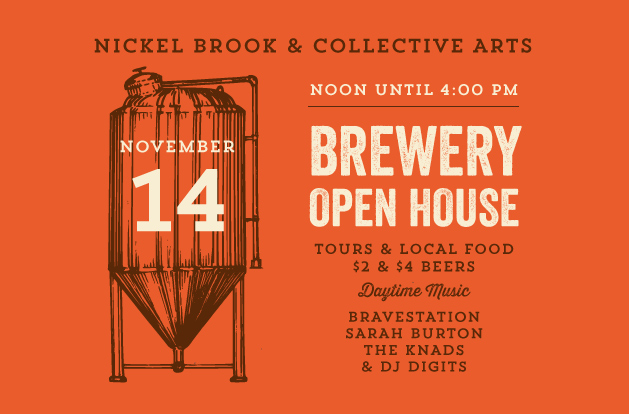 Kick back with some cold ones at the most historic beer building in Hamilton: after 23 months of planning, building and commissioning, Collective Arts and Nickel Brook are finally ready to show off the inner workings of their collaborative brewery, located at 207 Burlington St. E. To help commemorate its public launch, the brewery will host an OPEN HOUSE followed by a party Saturday, November 14th.
The Open House / 12PM-4PM
Craft beer lovers and curious neighbours alike are invited to come down to the brewery to enjoy some quality beer, art and music by emerging artists, and delicious fare from Hamilton's finest food trucks. The two brewers will also debut a special collaboration beer for the event.
Admission to the Open House is FREE, with beer and food available at hospitable prices. Guests can tour the facility, learn about the brewery process from the brewing team, and fill their beer 'Passport' with samples from the two breweries.
And the party doesn't stop there! Join us after the Open House on Saturday evening for the Collective Arts and Nickel Brook Launch Party. Purchase Launch Party tickets and find out more information