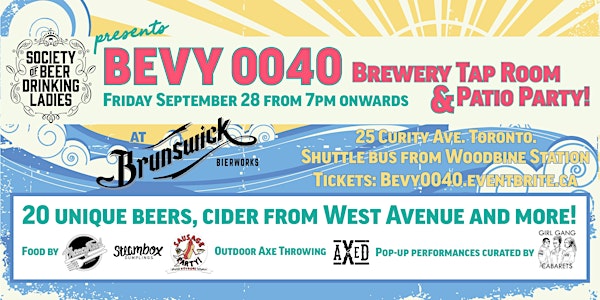 Brewery Tap Room & Patio Party w/ Society of Beer Drinking Ladies
When and where
Location
Brunswick BierWorks 25 Curity Ave Toronto, ON Canada
Description
Join us for Bevy 0040 at Brunswick BierWorks!

LORDY LORDY...we're turning FORTY! (errrr, bevies that is!) That's right: we're having our 40th Bevy on September 28th. Can you believe it!?

Join us at one of the coolest, most innovative Toronto breweries: Brunswick BierWorks. These guys brew a TON of the best International, National and local craft beer brands that we all drink everyday. We're tapping TWENTY different beers they brew: think crazy stuff from Omnipollo, La Trappe, Phillips, Mikeller and Dugges... just to name a few! And, their neighbours down the street; our pals Muddy York Brewing Co. - will also be coming by with a bunch of their dope beers! As if THAT wasn't enough, top Ontario cider maker West Avenue will be taking over our cider taps. We are obsessed with this cidery! These ciders make cheating on beer WORTH IT.

Three of our favourite Toronto Lady Food vendors - Phancy Food, Steambox Dumplings and Sausage Party - will be cooking up their beer-friendly snacks. For the first time EVER, we are starting the Bevy an hour early at 7pm. One more hour to eat ALL THE THINGS LADIES. Come hungry and try a little sample of everything.

Our friends at the Girl Gang Cabarets are back for a mini version of our 'Ninkasi Revue.' Throughout the night, find pop-up performances from some awesome lady entertainers (think magicians!)

Our Artisan Maker's Market is back with SEVEN women artisan vendors. Grab their one-of-a-kind wares and shop local!

Finally, we're SO PUMPED to announce AXED - MOBILE AXE THROWING is setting up shop outdoors on our patio area! If you`ve never given this a try, you absolutely must. So. Much. Fun. (And super safe, we promise!) This part is PWYC, with a suggested donation of $5.

We'll have our lady music playlist rockin' as usual so grab your dancing shoes, your lady pals and secure your ticket today! Tickets to our bevies are $35 and include: your first welcome beer (12oz), a chance to taste our unique "Bevy Brew" a "Morning After Bag," a chance to win sweet prizes and a good time with beer loving ladies!

TICKETS are now on sale - get 'em while we got 'em!

Cheers & thanks always for the support,
Erica & Jaime
STUFF TO KNOW
This is a safe and inclusive space, open to the LGBTQ, transgender community and all those who identify as women

Bring your Bevy Loyalty Card to get stamped. Request one at the front door if you don't yet have one. Reached the 'YAY" level? Collect your status pin for each new level you reach and receive a code for 50% off your next bevy!

As always, we will be donating a portion of ticket sales & all bar tips to the Canadian Women's Foundation.

5 oz and 14oz beers available at $3 & $6 respectively

Bring cash! No ATM's on site for this bevy. We do accept credit at our swag shop and you can buy beer tickets there too.

Our

Swag Shop

will be open! But if you can't wait, shop online. Bonus - your outfit for the bevy is already planned.

You must be 19 years of age to bevy it up. We will be checking ID.

Tickets are non-refundable and good for this bevy only. But, toss 'em up on Facebook if you can't make it...they're a hot commodity.

You may be photographed at the bevy. Images taken at the bevy may be used promotionally by the SOBDL.

Men welcome at midnight, admission by suggested $10 donation to Canadian Women's Foundation.