Description
You're invited to our Brewmaster's Dinner with our friends from Barn Owl Brewing in lower Mission, Kelowna. Chef Shaheed Esmail has created a custom 5 course menu to pair with 5 different beers. Enjoy a night of great food, beer and company all while learning stories about the brewery and their beers.
Each month we host a Brewmaster's dinner with a new brewery partner. Stay tuned to our website for upcoming dates, partners and menus.
Tickets include tax and gratuity.
---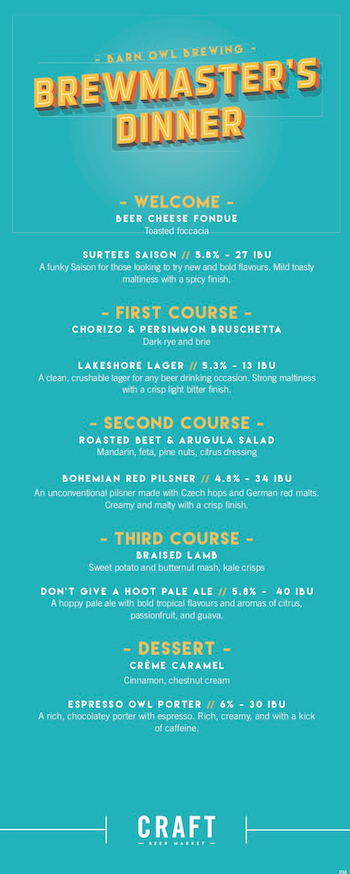 About Kelowna's newest craft brewery, Barn Owl Brewing Co:
A doctor, a teacher, and a church worker walked into a barn … and the rest is history.
An idea that has been brewing for years has finally completed fermentation. The three of us with rather diverse backgrounds do share a love of craft beer and bringing people together.
Barn Owl Brewing Company allows us to blend these wishes and bring them to reality. This didn't happen overnight. Many dedicated years of sampling brews from the constantly evolving world of craft brewing were required.
Feel welcome to come and share our vision of great beer and good times in a comfortable and inviting heritage building in the lower Mission of Kelowna.