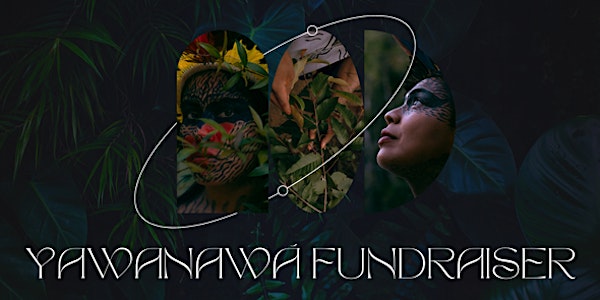 BRIDGE BETWEEN WORLDS: Amazonia Yurahu Alliance Fundraiser
Join us for an evening of music, beauty, and cultural celebration for the Indigenous and biocultural diversity of the Amazon rainforest.
When and where
Location
3214 W 10th Ave 3214 West 10th Avenue Vancouver, BC V6K 2L2 Canada
Refund Policy
Contact the organizer to request a refund.
About this event
How do we support the preservation of the natural forest and the medicinal plants?
How do we give back to Mother Earth and help rebalance the natural way of life?
How do we empower the Amazon Rainforest and its inhabitants the Yawanawá people who are stewards of this beautiful land?
Acknowledging our settler/colonialist mindset means seeing ourselves as the beneficiaries of the gifts of the Amazon.
Mutum village in the heart of the Amazon in the state of Acre in Brazil is rich in culture, ancient medicine knowledge and value that is meant to be respected and revered.
We can all play a part in ensuring the wisdom keepers of the Amazon can pass down their traditional knowledge practices to new generations so they may continue to uphold their unique identity into the 21st century.
Enjoy us for a special evening in Vancouver with:
Information on projects in the Indigenous rainforest
Gorgeous photography
Live, authentic Indigenous music and Yawanawá saitis (sacred chants)
Ways to support at a small-scale and large-scale
Beautiful Indigenous artwork
Opening prayers and song:
Biyaals Nawanaa
GUEST SPEAKER FROM BRAZIL:
Jordao de Souza, Ni Yushin
Speakers:
Soheil Samimi
Magda Blue Thunder Calling Woman
Lori Snyder
Musicians:
Shayan Aghourlikhani
Natalia Lebre Moroni
Mario Difine
YOUR HOSTS:
Joanna (Amazonia Yurahu Alliance)
Mia (Psychedelic Salons)
EACH TICKET COVERS:
- A much-appreciated donation towards the Yawanawa tribe!
- Your seat at an intentional educational and entertaining community event
- A small percentage of venue cost
- A small percentage for admin and organizational help in creating and making this event possible
We understand that while you may want to support, funds may be limited to spend on a community event. In addition to this, you may see this event but may not be in the area/region to attend! In that case, please reach out to us directly at joanna@yurahu.org to speak about options of attending on a scholarship. ***To ensure your entire donation goes towards the Amazonia Yurahu Alliance, please donate directly at their website at yurahu.org***
About Amazonia Yurahu Alliance: we are Yurahu (family), a dedicated team of individuals in alliance with the Yawanawá people working to support their sustainability and traditional cultural knowledge. Formed in 2020 by our founding members and Yawanawá board of advisors, Amazonia Yurahu Alliance supports Yawanawá-led projects in the village of Mutum, in the state of Acre, Brazil. We have come together as a family to be a bridge between the Yawanawá and the western world. We seek to build a global alliance of people who hear the call to help, who understand the importance of the Amazon rainforest, and who endeavour to preserve Indigenous knowledge. We are committed to supporting the Yawanawá Nipei Garden of Medicines as our first project.
The event is being hosted at the legendary Saint James Community Square in the MEL LEHAN HALL!
SJ is a registered non-profit and charitable organization dedicated to providing affordable community space for cultural, social, educational, and recreational activities in the heart of Vancouver's Kitsilano neighbourhood. Facilities include the Mel Lehan Hall, a variety of multi-purpose rooms, and dedicated office and co-working spaces.
Psychedelic Salons (psychedelicsalons.com) is a monthly virtual and in-person event series with the goal of awareness around psychedelics as medicine. It is mostly consisted of international psychedelic financiers/investors and project builders or facilitators in the entrepreneurial space. Our goal is to raise $1M for psychedelic therapy.
Ni Yushin, a Yawanawá word meaning 'spirit of the forest,' is a Brazilian based organization with arms in the US and Canada. Its mission is to preserve ancient indigenous wisdom and healing techniques to then share this with the greater world. Everywhere you look there is division, separation, competition, greed and environment collapse, which is stemmed from modern societies inherent disconnection from Nature.
Ni Yushin works with indigenous communities across the Amazon who have not lost this connection and is here to build bridges to modern society. The focus is to bring the healing force of the forest into the hearts of humanity promoting the importance of unity.
Ni Yushin works across many sectors including medicinal plants - the protection and research, indigenous spiritual courses (offline and online), in person gatherings and artisanal goods. As well as supporting many projects which help the indigenous to live their innate mission as being guardians of the forest.
Ni Yushin is building research centers and laboratories to bring more awareness to the healing potential of the plants and also to continue funding the education of the indigenous youth so that they can keep the wisdom tradition alive.
Photo credit: Lara Dias @laradias
This event will also be available through paid live stream/paid recorded video option. We will send out a Zoom link closer to the event. The cost will be the same as the event itself.
Cost of event:
$27.47-$89.57 depending on which stream of tickets you buy. If you cannot afford it, please message us directly for alternate options we can discuss.