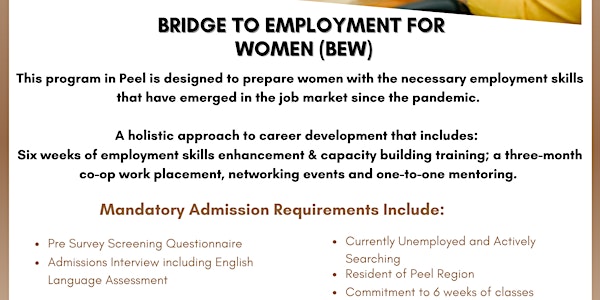 Bridge to Employment for Women
BEW is a free women's only employment skill building and co-op placement program for those living in Peel Region
About this event
Bridge to Employment for Women
MIAG is excited to announce a new Women's Only Employment program designed to give participants the skills and experience to become gainfully employed in this new post pandemic world.
The Bridge to Employment for Women program in Peel is funded by the United Way Greater Toronto and is designed to prepare women the with necessary employment skills that have emerged in the job market since COVID 19. The program takes a holistic approach to career development and includes a six-week employment skills enhancement and capacity building online course delivered by an industry professional; a three-month co-op work placement, bi-monthly networking events and one-to-one mentoring as needed. Wraparound supports include programs and connections in the fields of wellness, parenting, and healthy lifestyle.
Classes will be held virtually, four days a week Monday-Thursday 10am-12pm beginning in August 2022. Registration is mandatory and admission requirements must be met prior to acceptance into the program.