Bridges of Belonging is an opportunity to engage in meaningful conversations on belonging.
About this event
Bridges of Belonging is an opportunity to engage in meaningful conversations on belonging and how it impacts our individual and collective journeys. Moderated by Andrea Carey, a Canadian Certified Inclusion Professional, these sessions will feature two guests sharing their stories of belonging in their lived experiences. We are surrounded by diversity, and there is increasing appreciation that we need to create inclusive spaces and places in order to support the success of our diverse workforces and clients - but until we find ways to creates cultures where each person can belong, we will struggle to support people to thrive.
These conversations are an opportunity to think about our connections – and how we can be intentional in appreciating each other, listening to understand, acknowledging that we don't know what we don't know, and going on a learning journey together to share, learn, connect and create.
Featured guests for January 12, 2021 11:00 AM Pacific Time are:
Senator Chantal Petitclerc and guest TBC
The Honourable Chantal Petitclerc is not only an internationally renowned athlete, but also a compassionate person. When she was 13 years old, she lost the use of her legs in an accident. While Petitclerc was developing her skills as a wheelchair athlete, she pursued her studies, first in social sciences at the CEGEP de Sainte-Foy and then in history at the University of Alberta in Edmonton. She overcame adversity and many obstacles to become a proven leader in the sports world. Her gold medals in the Paralympic Games, Olympic Games and Commonwealth Games, the various awards and accolades she has received, and her appointment as Team Canada's Chef de Mission for the Rio Paralympic Games are all markers of her success.
Her many achievements and her personal journey have also made her an in-demand public speaker, recognized across Canada. She has been the spokesperson for Défi sportif AlterGo for 17 years, and is an ambassador for the international organization Right to Play. A tireless advocate for the contributions people with disabilities have made to our society, she plays a definitive role in building a more inclusive society. Her example inspires people to overcome their obstacles and achieve their full potential.
Through her experiences, Senator Petitclerc has also learned a lot about the particular characteristics of various communities, as well as how decisions are made at the national level. As someone who has functional limitations herself, she has a good understanding of the needs of various minority communities and would like to ensure their voices are heard. The Senator is a Companion of the Order of Canada and a Knight of the Order of Quebec. She received the Lou Marsh Trophy for Canadian Athlete of the Year and was inducted into the Canadian Paralympic Hall of Fame. She has also received four honorary doctorates. In addition, Senator Petitclerc sits on various committees and boards of directors, where she provides her dynamic and unique perspective.
Angie Abdou
Angie Abdou is the critically acclaimed author of seven books. Her first novel, The Bone Cage, was a finalist on CBC's Canada Reads. Angie's newest book, a memoir called Home Ice: Reflections of a Reluctant Hockey Mom, hit the Canadian bestseller list and the #1 spot on Amazon Canada's best-selling hockey books. Booklist declared it a "first rate memoir." Angie Abdou is an Associate Professor of Creative Writing at Athabasca University. This One Wild Life, a book about hiking with her daughter, launches April 2021.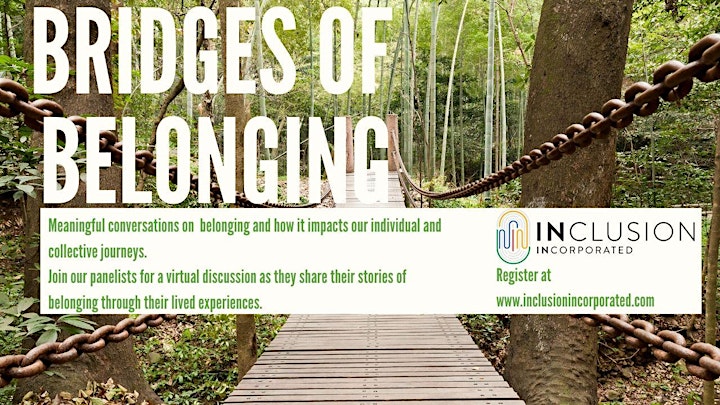 Organizer of Bridges of Belonging - Conversation #21