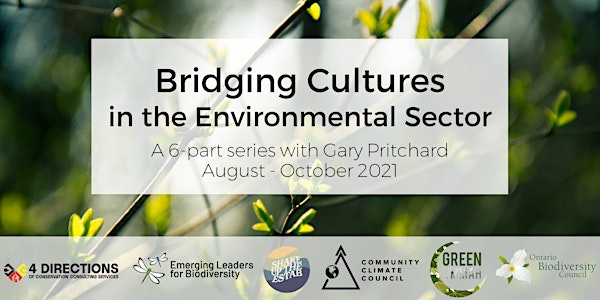 Bridging Cultures in the Environmental Sector
Youth across Ontario are invited to join Gary Pritchard in a 6-part workshop series on Bridging Cultures in the Environmental Sector.
Refund Policy
Contact the organizer to request a refund.
Eventbrite's fee is nonrefundable.
About this event
Youth across Ontario are invited to join Gary Pritchard ~Giniw (Golden Eagle) in a 6-part workshop series on Bridging Cultures in the Environmental Sector, alongside several youth-led organizations: Emerging Leaders for Biodiversity, Shake Up The Establishment, the Community Climate Council, and Green Ummah; with support from the Ontario Biodiversity Council. Participants will learn about treaties, working with Indigenous Peoples, Indigenous engagement strategies, and bridging cultures. The workshop series will take place virtually over Zoom, with each session lasting between 1.5-2 hours. Each workshop will take place in the evening from 6:00 to 8:00pm, and participants are expected to attend the entire series. We ask that all participants bring with them an open heart, an open mind, and open ears.
Workshop dates:
Tuesday, August 10 (6PM-8PM) Introductions: Ice-breaker and Indigenous cultural protocol of introductions prior to conducting business.
Thursday, August 12 (6PM-8PM) Treaties 101: Aims to help Settlers learn about their collective obligations to live in treaty with Indigenous Peoples.
Tuesday, August 24 (6PM-8PM) Working with Indigenous Peoples 101: Strives to help those individuals build confidence prior to engaging with Indigenous Peoples.
Tuesday, September 7 (6PM-8PM) Indigenous Engagement Strategies: Aids individuals in constructing an engagement strategy, relationship framework to meet their Duty to Consult.
Tuesday, September 21 (6PM-8PM) Bridging Cultures: How Indigenous knowledge can influence or add to western science.
Tuesday, October 5 (6PM-8PM) Fireside Chat and Closing: Recap of virtual classes and answer any outstanding questions. Close in a culturally respectful manner.
Developing a culturally competent attitude is an ongoing process. All people are unique individuals with experiences, beliefs, values and language that affect their ways of interacting with others and their larger community. Differences also exist within cultures. This series on cross-cultural awareness has been designed to educate participants about the history, traditions, values and beliefs of Ontario's Indigenous Peoples.
Meet Gary: Gary Pritchard ~Giniw (Golden Eagle) is a Conservation Ecologist & Indigenous Engagement/Placemaking Specialist from Curve Lake First Nation, Ontario. Gary has had the privilege to work on behalf of Indigenous peoples throughout Ontario and Canada. He has travelled and worked in almost 300 Indigenous communities throughout Canada and the northern United States. He has brought a wealth of knowledge to both his Indigenous and non-Indigenous clientele performing a wide variety of services including: Indigenous Community Planning, land-use/traditional knowledge studies, Indigenous-led conservation and restoration, Ecological Monitoring using Two-eyed Seeing, Indigenous Place-making, capacity building, expert testimony, mediation between western science and traditional science, and subject matter expertise on behalf of Indigenous communities. Gary is currently the principal consultant at 4 Directions of Conservation Consulting Services.
Gary loves to connect and educate people through nature. He does this through several mediums. His favorite way is through his wildlife photography and storytelling. He believes that if individuals, especially youth, can form a connection with nature then all people can make conscious decisions on how we impact Mother Earth and the next seven generations. Gary likes to spend much of his free time educating the youth about "All Our Relations," with his most favorite students being his two children.
One of Gary's greatest strengths is that he is often able to be the one who acts as the bridge between the Indigenous Community and the western style of governance. Gary has successfully collaborated with many stakeholder groups, researchers, institutes, government agencies, Indigenous communities, and political organizations to address environmental concerns and identify practical solutions to environmental related issues.
This series is intended for those that identify as youth (35 and under) and will focus on an Ontario context.
Event Partners:
Emerging Leaders for Biodiversity (ELB) is a youth-run biodiversity network that connects youth and emerging professionals (aged 18-30) in Ontario with one another, with opportunities in the environmental sector, and with the Ontario Biodiversity Council, all while promoting biodiversity conservation. ELB hosts capacity building workshops and events that help you excel in this field.
Shake Up The Establishment is a non-partisan, youth-led, registered organization that aims to make credible, evidence-informed information readily available to the Canadian population to promote informed voting, advocacy practices, and political accountability surrounding human and social justice issues that are exacerbated by the climate crisis.
The Community Climate Council is a youth-founded, volunteer-led not-for-profit organization advocating for local climate action by promoting climate literacy and political advocacy in what is currently known as Peel Region, Ontario.
Green Ummah is a non-profit organization with the goal of creating a green movement in the Canadian Muslim community.
The Ontario Biodiversity Council was created in 2005 in fulfillment of an action in the province's first Ontario's Biodiversity Strategy. Council members represent conservation and environmental groups, industry associations, Indigenous organizations, natural history institutions, academia and government agencies.