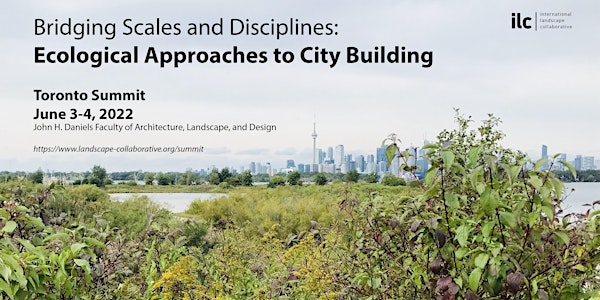 Bridging Scales and Disciplines: Ecological Approaches to City Building
Location
John H. Daniels Faculty of Architecture, Landscape and Design, University of Toronto
1 Spadina Crescent
Toronto, ON M5S 2J5
Canada
Refund policy
Contact the organizer to request a refund.
Eventbrite's fee is nonrefundable.
The summit is a forum to share collaborative initiatives, influence policy, and inspire participants to advocate for nature-based solutions.
About this event
The Toronto 2022 Summit will be an in-person event on June 3-4, 2022 to be held at the University of Toronto John H. Daniels Faculty of Architecture, Landscape and Design at 1 Spadina Crescent, Toronto, ON, Canada. For more info and updates please visit: https://www.landscape-collaborative.org/summit
Addressing the climate crisis will require major changes in how we design, build and live in our cities. Understanding the linkages between cities and their regional landscapes, and the social ecologies that manage them, lie at the roots of knowing how to adapt them toward more sustainable futures, resilient to unpredictable change. Collaboration between all sectors of society and a wide range of professional and academic disciplines will be critical to affecting significant change toward nature-based solutions. The built environment disciplines have an important role to play in envisioning how we restore ecological vitality to our cities and reintegrate them into their regional landscapes.
Through moderated discussions among diverse participants working at the intersection of ecology, design, policy, and advocacy, the summit will create a dialogue on the future of city-building, drawing lessons from successful case studies in the Greater Toronto Area and perspectives from abroad. The summit serves as a forum for participants to share innovative projects and collaborative initiatives that have transformed urban regions, to influence decision makers to adopt new approaches to policy, and to inspire participants to advocate for nature-based solutions to urban resilience challenges.
The two-day event will feature keynote presentations from Anne Whiston Spirn, Carolyn Woodland, and Nina Marie Lister, moderated panel discussions featuring case study presentations from the GTA and diverse perspectives from international guests. Optional site tours will highlight the stories of collaboration and community advocacy that have made possible exemplary sites of ecological restoration and conservation within Toronto's metropolitan landscape such as Don Valley Brickworks Park, the Leslie Spit, and the Lower Don Renaturalization. The summit highlights successful collaborations between public agencies, design professionals, non-profit organizations, and community activists, and invites diverse participants across sectors and disciplines to connect, brainstorm, and collaborate in working toward ecological approaches to city-building.
The summit is an initiative of the International Landscape Collaborative in partnership with Toronto Metropolitan University (TMU) School of Urban and Regional Planning, the University of Toronto Daniels Faculty of Architecture, Landscape, and Design, the University of Waterloo School of Architecture, and the University of Guelph School of Environmental Design and Rural Development, with additional support from allied organizations such as Sprucelab, the OALA, and OAA. It is made possible through grant funding from the Social Sciences and Humanities Research Council (SSHRC), and Ontario Association of Architects (OAA), as well as sponsorship from many other supporting organizations.
PROGRAM
DAY 1 | Friday, June 3
9:00am - 12:00pm
Introduction, keynote presentations, and panel discussion on ecological approaches to planning metropolitan regions and their landscape systems.
12:00 - 6:00pm
Optional field trip to sites of conservation and renaturalization in Toronto's Metropolitan Landscape: Don Valley Brickworks Park, the Meadoway, and Rouge National Urban Park.
DAY 2 | Saturday, June 4
9:00am - 12:00pm
Optional Field Trip to sites of conservation and renaturalization in Toronto's Metropolitan Landscape: Lower Don Renaturalization & Tommy Thompson Park.
1:00 - 6:00pm
Panel discussions and a closing keynote conversation on building ecological urban infrastructures, developing new methods and modes of practice, and developing broader landscape literacy and new skills and collaborations toward ecological approaches to city building.
6:00 - 8:00pm
Closing reception with refreshments and networking opportunities to cultivate future collaborations.
We will closely monitor the Covid 19 pandemic situation and follow the latest public health authority guidelines, as well as the University of Toronto policies: https://ehs.utoronto.ca/covid-19-information/. Proof of vaccination against COVID-19 or a negative result from a test taken within 72 hours will be required for entry.
For more updated information and detailed program for the event, and to sign up for our mailing list please visit our website: https://www.landscape-collaborative.org/summit.