Live interactive magic shows every Friday night in the comfort of your own home.
About this Event
Magic Tonight has gone VIRTUAL!
For three years and hundreds of shows, we took live interactive magic, combined dinner and drinks, and created a fun, exciting and unique night out for audiences in the Greater Toronto Area. Now we are continuing the same tradition of great magic and great fun but have moved into the virtual space. Join us every Friday Night on Zoom for fully interactive live magic with one of Canada's foremost sleight-of-hand experts, James Alan.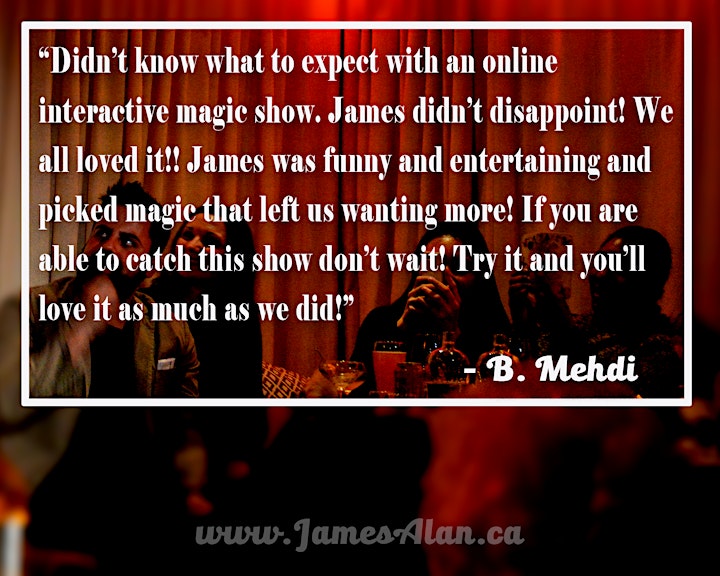 What's Changed:
Enjoy the magic from the comfort of your own home. You can now be curled up on the couch with a snack and a drink. You can even have a cat curled up next to you; doesn't bother us one bit! You might even be able to skip pants (although please check your camera setup to see whether or not that works for you!)
Watch closer than ever before. Every seat is a front row seat and you're guaranteed not to miss anything (except probably all that secret stuff that magicians are famous for not wanting you to see.)
Watch from anywhere in the world. Before shows were limited to Toronto and the surrounding area. Now driving distance means nothing. You can join from anywhere. You can also watch with family and friends without being in the same household — or even the same time zone! We have two performances: 8PM Eastern, and 8PM Pacific so you can choose what works best for you.
Enjoy the show Together… for LESS. Because of the way videoconferencing works, you only need one ticket for your entire household, so you can watch by yourself or with the whole family together. (Performances are family friendly but not intended for children under twelve)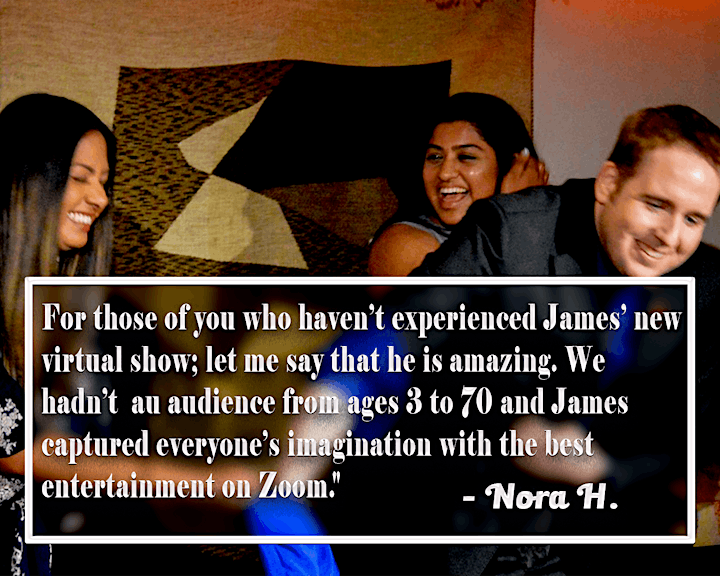 What's the Same:
Have your mind blown. For nearly a decade, James Alan's magic has left Toronto audiences stunned. And you get to see the best of that up close on screen. You will not believe your eyes.
Participate in the magic. These are live and fully interactive performances, not pre-recorded or streamed with a delay. Everyone has the opportunity to join in. And by gathering some basic materials from around your home, you can actually take part in interactive experiments where magic can happen right in your own hands.